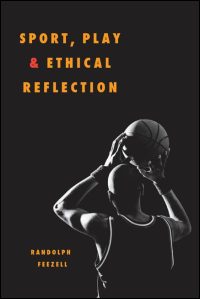 Sport, Play, and Ethical Reflection
Awards and Recognition:
A Choice Outstanding Academic Title, 2006.
A philosophical analysis of the nature, attraction, and limits of sport
In paperback for the first time, Randolph Feezell's Sport, Play, and Ethical Reflection immediately tackles two big questions about sport: "What is it?" and "Why does it attract so many people?" Feezell argues that sports participation is best described as a form of human play, and the attraction for participants and viewers alike derives from both its aesthetic richness and narrative structure. He then claims that the way in which sports encourage serious competition in trivial pursuits is fundamentally absurd, and therefore participation requires a state of irony in the participants, where seriousness and playfulness are combined.
Feezell builds on these conclusions, addressing important ethical issues, arguing that sportsmanship should be seen as a kind of Aristotelian mean between the extremes of over- and under-investment in sport. Chapters on cheating, running up the score, and character building stress sport as a rule-governed, tradition-bound practice with standards of excellence and goods internal to the practice. With clear writing and numerous illuminating examples, Feezell demonstrates deep insight into both of his subjects.
---
"Anyone interested in why sport plays such an important role in so many lives will want to read this book. . . . Essential."-- Choice (naming the book an Outstanding Academic Title)

"Feezell, a philosopher and athlete, presents a philosophically serious, analytic, and insightful treatment of sport."--Ethics
"Each of the essays is engagingly written and thought provoking, combining an acute and wide-ranging philosophical intellect with an intimate personal familiarity with sport itself . . . . the volume gives both old and new readers of Feezell an opporunity to see the systematic development of an important and original outlook on sport . . . . I cannot present the depth and complexity of Feezell's thought in a short review. Readers will have to discover this for themselves."--J.S. Russell, Department of Philosophy at Langara College, Vancouver, BC, Canada
---
To order online:
//www.press.uillinois.edu/books/catalog/28epy4hr9780252074318.html
To order by phone:
(800) 621-2736 (USA/Canada)
(773) 702-7000 (International)
Related Titles