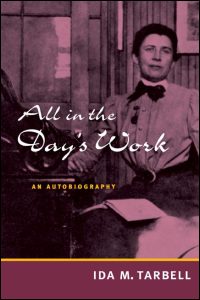 All in the Day's Work
An Autobiography
The only woman of the original 13 muckrackers, and the first woman on staff at McClure's Magazine, Ida Tarbell continues to be viewed as one of America's most important women and journalists.
In this frank and informative autobiography, the veteran investigative journalist Ida M. Tarbell looks back on her nearly fifty-year career. At the age of eighty-two, one of the original muckrakers writes with her characteristic candor about a life spent defying categories and challenging complacency.
Tarbell was the only woman in her class of forty students at Allegheny College, and upon graduation she began an internship at The Chautauquan, which was the start of a lifelong immersion in the world of journalism. She further honed her skills during a three-year stint in Paris, but the breakthrough came in 1894 when she was hired as a full-time writer for McClure's Magazine.
It was at McClure's--where, again, she was the only woman on staff--that Tarbell made her name as a determined journalist, one of the fearless brigade of truth-seekers famously chastised by Theodore Roosevelt, who coined the term 'muckraker' in order to discredit those who attacked senators in print. Tarbell wrote serialized biographies of Napoleon and Abraham Lincoln, as well as a landmark series of articles on Standard Oil and John D. Rockefeller.
In All in the Day's Work, Tarbell turns her keen eye on herself, recalling the events of her fascinating life with the same honesty, verve, and scrupulous accuracy she brought to her journalistic work, offering insight along the way into the people, places, and issues of her time.
---
"[Tarbell] achieved a career as interesting and as fruitful as any writer of her time. Now she tells about it, with characteristic and sincere modesty." -–New York Times
"Tarbell's book is significant beyond its contribution to investigative journalism...this book adds depth to the work of women journalists, adding insight to a reporter who helped define investigative journalism." --Journalism and Mass Communication Educator
To order online:
//www.press.uillinois.edu/books/catalog/28yky8zp9780252071362.html
To order by phone:
(800) 621-2736 (USA/Canada)
(773) 702-7000 (International)
Related Titles