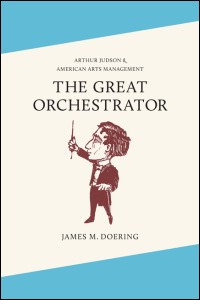 The Great Orchestrator
Arthur Judson and American Arts Management
Awards and Recognition:
• Certificate of Merit for Best Historical Research in Classical Music, Association for Recorded Sound Collections (ARSC), 2014
The powerful music manager behind world-class orchestras and virtuoso artists in the early twentieth century
This biography charts the career and legacy of the pioneering American music manager Arthur Judson (1881–1975), who rose to prominence in Philadelphia and New York at the beginning of the twentieth century. A violinist by training, Judson became manager of the Philadelphia Orchestra in 1915 under the iconic conductor Leopold Stokowski. Within a few years, Judson took on management of the New York Philharmonic, navigating a period of change and the tenures of several important conductors who included William Mengelberg, Arturo Toscanini, and John Barbirolli. Judson also began managing individual artists, including pianists Alfred Cortot and Vladimir Horowitz, violinist Jasha Heifetz, and cellist Gregor Piatigorsky. He organized the U.S. tours of several prominent composers, including Igor Stravinsky and Vincent d'Indy. At the same time, Judson began managing conductors. His first clients were Stokowski and Fritz Reiner. By the 1930s, Judson's conductor list included most of the important conductors working in America.
Drawing on rich correspondence between Judson and the conductors and artists he served, James M. Doering demonstrates Judson's multifaceted roles, including involvement with programming choices, building audiences, negotiating with orchestra members and their unions, and exploring new technologies for extending the orchestras' reach. In addition to his colorful career behind the scenes at two preeminent American orchestras, Judson was important for a number of innovations in arts management. In 1922, he founded a nationwide network of local managers and later became involved in the relatively unexplored medium of radio, working first with WEAF in New York City and then forming his own national radio network in 1927.
Providing valuable insight into the workings of these orchestras and the formative years of arts management, The Great Orchestrator is a portrait of one of the most powerful managers in American musical history.
---
"A much needed contribution to our knowledge of this history and should become required reading for aspiring classical music manager."--American Journal of Arts Management

"No doubt will become a classic in the literature of arts management. Highly recommended."--Choice

"Doering's insightful depiction of 'the great orchestrator' should serve as a model for scholars who wish to expand their coverage of music history and explore what goes on behind the scenes of the performing arts."--Notes
"This informative, interesting biography sheds new light on one of the most powerful eminences in the history of American concert music, presenting Arthur Judson's progress from teaching in a small Ohio college to managing simultaneously two of the greatest American orchestras, the Philadelphia Orchestra and the New York Philharmonic, as well as being a founder of Columbia Arts Management, Inc. (CAMI) and a pioneer in radio broadcasting."--Michael Charry, author of George Szell: A Life of Music

"A work of exemplary scholarship covering a significant and too little-known figure in music history: Arthur Judson, the classical instrumental music impresario, musician, teacher, orchestral administrator, artist manager, promoter, and media mogul. Doering admirably places Judson's life and career in the context of the changing orchestral industry from 1900 to the 1970s, showing how Judson was a catalyst for these developments."--Mark Clague, director, American Music Institute, University of Michigan
Publication supported by grants from the Henry and Edna Binkele Classical Music fund and from the AMS 75 PAYS Endowment of the American Musicological Society, funded in part by the National Endowment for the Humanities and the Andrew W. Mellon Foundation.
---
To order online:
//www.press.uillinois.edu/books/catalog/28ynx4zb9780252037412.html
To order by phone:
(800) 621-2736 (USA/Canada)
(773) 702-7000 (International)
Related Titles