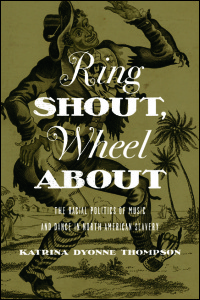 Ring Shout, Wheel About
The Racial Politics of Music and Dance in North American Slavery
Awards and Recognition:
• A Choice Outstanding Academic Title, 2014
A stage-level view of black musical performance and early American conceptualizations of race
In this ambitious project, historian Katrina Thompson examines the conceptualization and staging of race through the performance, sometimes coerced, of black dance from the slave ship to the minstrel stage. She shows how these performances informed white European and American understandings of race, influenced interactions between whites and blacks, and often held conflicting meanings in enslaved people's lives.
Drawing on travel journals, slave narratives, popular literature, and historical sources, Thompson explicates how black dance was used by whites to justify enslavement, perpetuate the existing racial hierarchy, and mask the brutality of the domestic slave trade. Whether on slave ships, at the auction block, or on plantations, whites often used coerced performances to oppress and demean the enslaved.
As Thompson explains, however, blacks' "backstage" dance often served quite a different purpose. Through creolization and other means, enslaved people preserved some native musical and dance traditions and invented or adopted new traditions that built community and even aided rebellion. Thompson shows how these traditions evolved into nineteenth-century minstrelsy and, ultimately, raises the question of whether today's mass media performances and depictions of African Americans are so very far removed from their troublesome roots.
---
"Thompson has written a powerful study whose implications reach beyond distant American history or the preconceptions of 'black studies' to ask urgent questions about African American identity."--Times Literary Supplement

"Thompson forces readers to rethink the place and meaning of performance in early America. ...Ring Shout stands as one of the more intriguing new works on slavery and performance."--Civil War Book Review

"Thompson's extraordinary book relates the story behind the story of the genesis of blackface minstrelsy as the first entertainment form in the new US. Essential."--Choice

"Provides a thorough examination of the "complex and conflicting roles" of music and dance in the lives of the enslaved, arguing that double consciousness was one result of the "paradoxical dynamic of agency, masquerade, and subjugation" found in black performances."--The Journal of Southern History

"Thompson offers the first cultural history of how music and dance shaped Euro-American and African American identities and how these American culture producers manipulated the performing arts to mold public perception. . . . On virtually every page of Ring Shout, Wheel About, Thompson perceptively deconstructs this complicated quartet of music, dance, slavery, and American culture, and she brilliantly organizes her argument around a 'page to stage' metaphor of theatrical production. . . . Ring Shout, Wheel About succeeds tremendously in historicizing racial stereotyping well before blackface and in explicating the many uses Europeans, Africans, African Americans, Euro-Americans, southerners, and northerners found for music and dance."--Register of the Kentucky Historical Society

"Katrina Dyonne Thompson makes an important contribution to our understanding of slavery and racial formation. An engaging, well-argued book that uses the contested areas of dance and music to explore the many worlds of slavery and the cultural development of both blacks and whites. Ring Shout, Wheel About will take its rightful place alongside its academic forbearers, and should be the standard to follow for years to come."--Journal of the Illinois State Historical Society

"Northern antebellum minstrel shows were ugly enough, clearly indebted to the economics and racist hierarchies of slavery, however politically ambiguous they sometimes were. But reaching back centuries before them, Thompson brings into view a variety of scenes and situations, as brutal as they were familiar, involving the coercion of music and dance from enslaved persons by white slavers and masters."--American Historical Review

"A compelling and important contribution to the study of slavery, race, and American entertainment. . . . Thompson's argument is clear and convincing: the performances demanded of slaves were central to white 'attempts to define blackness and slavery."--Ohio Valley History

"A vital read for those seeking to understand the complicated legacy of race and bondage in popular culture."--H-Net Reviews

"Ring Shout, Wheel About is more than a study of slave music and dance. Katrina Dyonne Thompson provides a sophisticated analysis of how slave dance and musical performances contributed to historical and contemporary stereotypes of African Americans. . . . The book's insights on the African American experience from the time of enslavement to present-day performances of and by African Americans on radio, television, and film should generate considerable discussion into the construction and persistence of racial stereotypes in the United States."--Journal of the Early Republic

"Thompson enhances the depth of scholarly knowledge on enslaved Africans' resistance and cultural retentions. . . . Ring Shout, Wheel About demonstrates emphatically that African people directed their own entertainment behind the scenes, outside the gaze of white oppressors."--The Journal of African American History
"Important reading for anyone who wants to understand the history of the performing arts and race in America. What is seemingly a simple topic--enslaved people's performance of music and dance--achieves great complexity and delivers tremendous returns in Katrina Thompson's able hands."--Diane Mutti-Burke, author of On Slavery's Border: Missouri's Small Slaveholding Households, 1815-1865
---
To order online:
//www.press.uillinois.edu/books/catalog/32bsf5en9780252038259.html
To order by phone:
(800) 621-2736 (USA/Canada)
(773) 702-7000 (International)
Related Titles