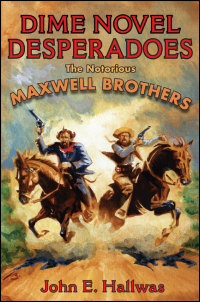 Dime Novel Desperadoes
The Notorious Maxwell Brothers
Awards and Recognition:
Received the Society of Midland Authors Award in the category of Biography, 2009. Received a Superior Achievement Award from the Illinois State Historical Society, 2009
The exhilarating true tale of two major American desperadoes who once captivated the nation
A thrilling true crime narrative and groundbreaking historical account, Dime Novel Desperadoes recovers the long-forgotten story of Ed and Lon Maxwell, the outlaw brothers from Illinois who once rivaled Jesse and Frank James in national notoriety. Growing up hard as the sons of a struggling tenant farmer, the Maxwell brothers started their lawbreaking as robbers and horse thieves in the 1870s, embarking on a life of crime that quickly captured the public eye.
Already made famous locally by newspapers that wanted to dramatize crimes and danger for an eager reading audience, the brothers achieved national prominence in 1881 when they shot and killed Charles and Milton Coleman, Wisconsin lawmen who were trying to apprehend them. Public outrage sparked the largest manhunt for outlaws in American history, involving some twenty posses who pursued the desperadoes in Wisconsin, Minnesota, Iowa, Illinois, Missouri, and Nebraska. Some of the pursuers were intent on a lynching, but the outlaws escaped against incredible odds. When a mob finally succeeded in killing Ed, in broad daylight on a courthouse lawn, that event generated widespread commentary on law and order. Nevertheless, the daring desperadoes were eventually portrayed as heroes in sensationalistic dime novels.
A stunning saga of robbery and horse stealing, gunfights and manhunts, murder and mob violence, Dime Novel Desperadoes also delves into the cultural and psychological factors that produced lawbreakers and created a crime wave in the post-Civil War era. By pointing to social inequities, media distortions, and justice system failures, John E. Hallwas reveals the complicity of nineteenth-century culture in the creation of violent criminals. Further, by featuring astute, thought-provoking analysis of the lawbreaker's mindset, this book explores the issue at the heart of humanity's quest for justice: the perpetrator's responsibility for his criminal acts.
Every overview and encyclopedia of American outlaws will need to be revised, and the fabled "Wild West" will have to be extended east of the Mississippi River, in response to this riveting chronicle of major American desperadoes who once thrilled the nation but have since escaped historical attention for well over a century. With more than forty illustrations and several maps that bring to life the exciting world of the Maxwell brothers, Dime Novel Desperadoes is a new classic in the annals of American outlawry.
---
"What an intriguing book! . . . This extraordinary detailed work delves into the psychology of outlawry and the American culture that seems to find entertainment in such notorious personalities. Western history in the future should no longer ignore the escapades of the Maxwell brothers nor this excellent book."--True West

"Well written and researched, this [is a] highly recommended piece of literature."--The Journal of American History

"Contemporaries of the James-Younger gang, Ed and Lon Maxwell were briefly quite as famous, feared, and, in Ed's case, dead as Jesse James himself. . . . A diligent researcher, Hallwas uncovers all data about the Maxwell family, who in the 1860s and 1870s were tenant farmers in western Illinois and Iowa. . . . Describing the posses that eventually nabbed Ed in 1881 (Lon vanished), Hallwas ably restores their escapades to the history of western outlawry."--Booklist

"Hallwas's massively researched book explores cultural and psychological factors that produced law-breakers and created a crime wave in the post–Civil War period. . . . A page-turning narrative."--Quad-Cities Online
"Beyond being a suspenseful story, Dime Novel Desperadoes approaches its subjects with a sensitivity of thought and depth of analysis that I've seldom encountered in an historical work. Throughout the fascinating true story of the Maxwell brothers, the reader is invited to consider how the outlaw brothers' psychology, powerful social forces, and the human need for narrative conspired to forge the identities they assumed and to shape their destiny. This is a masterwork."--Tracy Knight, author of the western novel Beneath a Whiskey Sky

"Dime Novel Desperadoes is extremely well written and accessible, massively researched in a vast variety of sources, and offers broad appeal to readers who like crime stories (western or otherwise), serious scholars of sociopathology, and students of regional history."--Rodney O. Davis, coeditor of Herndon's Lincoln

"This book is superb. It exhibits massive research, thoughtful organization, engaging prose, and a narrative that keeps you turning page after page, lost in the story."--Gerald A. Danzer, author of Public Places: Exploring Their History
---
To order online:
//www.press.uillinois.edu/books/catalog/33ydg5dc9780252033520.html
To order by phone:
(800) 621-2736 (USA/Canada)
(773) 702-7000 (International)
Related Titles