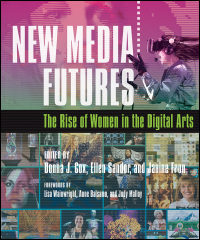 New Media Futures
The Rise of Women in the Digital Arts
Blazing artistic trails through the digital age
Trailblazing women working in digital arts media and education established the Midwest as an international center for the artistic and digital revolution in the 1980s and beyond. Foundational events at the University of Illinois and the School of the Art Institute of Chicago created an authentic, community-driven atmosphere of creative expression, innovation, and interdisciplinary collaboration that crossed gender lines and introduced artistically informed approaches to advanced research.
Interweaving historical research with interviews and full-color illustrations, New Media Futures captures the spirit and contributions of twenty-two women working within emergent media as diverse as digital games, virtual reality, medicine, supercomputing visualization, and browser-based art. The editors and contributors give voice as creators integral to the development of these new media and place their works at the forefront of social change and artistic inquiry. What emerges is the dramatic story of how these midwestern explorations in the digital arts produced a web of fascinating relationships. These fruitful collaborations helped usher in the digital age that propelled social media.
Contributors: Carolina Cruz-Niera, Colleen Bushell, Nan Goggin, Mary Rasmussen, Dana Plepys, Maxine Brown, Martyl Langsdorf, Joan Truckenbrod, Barbara Sykes, Abina Manning, Annette Barbier, Margaret Dolinsky, Tiffany Holmes, Claudia Hart, Brenda Laurel, Copper Giloth, Jane Veeder, Sally Rosenthal, Lucy Petrovic, Donna J. Cox, Ellen Sandor, and Janine Fron.
---
"This is a book that can be picked up and opened to any area to explore. If you do, you will come away a little bit wiser, certainly more informed and totally impressed with what these women have done." --Illinois Times

"New Media Futures: The Rise of Women in the Digital Arts is poised to become a valuable study tool for those interested in the intersection between art, women artists, and technology." --Hyperallergic

"A very necessary book that all daughters should read." --Shannon Jackson, Associate Vice Chancellor for the Arts and Design, University of California, Berkeley

"New Media Futures is an important and interesting work not only because it seeks to create a history of largely undocumented subject, the importance of women and the Midwest to digital arts, but also because of the approach the editors take to the work. . . . Anyone from a casual reader to an artist, scientist, or academic may learn from and appreciate this work." --Journal of the Illinois State Historical Society

"New Media Futures will be a rewarding read and a prized possession for scholars interested in the experimental, creative spaces for art carved out by women working between the coasts. . . . The many images from the artists' own collections, and stories told in their own words make this lively and engaging volume a welcome addition to the literatures on women's history, the histories of computing, and the digital media arts." --Platypus
"This is a fascinating and important book. It will appeal to scientists, technologists, artists, and the general public. It tells wonderfully exciting stories of creative, risk-taking women (and men) that will inspire present and future generations. These stories demonstrate that the creative spark that drives scientists and artists knows no disciplinary boundaries. And it is simply a delightful read."--Walter E. Massey, Chancellor, School of the Art Institute of Chicago

"This important anthology offers riveting testimonials to the tangible contributions of women during the dawn of the digital era. Concentrated in the Midwest, these scientists, inventors, designers, and artists faced down gender bias to shape the global future of technology and culture."--Sara Diamond, President, OCAD University

"It was one of the formative periods in my life to be associated with many of the creative women in this book. It was a magic period, when these women helped transform the world as we knew it. I am so happy to see their innovative work is finally getting the attention it deserves."--Larry Smarr, Founding Director, Calit2 and NCSA
---
To order online:
//www.press.uillinois.edu/books/catalog/33yyg4qe9780252041549.html
To order by phone:
(800) 621-2736 (USA/Canada)
(773) 702-7000 (International)
Related Titles