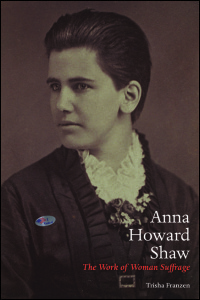 Anna Howard Shaw
The Work of Woman Suffrage
Awards and Recognition:
• A Choice Outstanding Academic Title, 2014
A biography of a daughter of the frontier and a lifelong working woman who headed an "alternative family" and supported universal suffrage as the head of the NAWSA
Acknowledged by her contemporaries as the most outstanding woman suffrage orator of her time, Anna Howard Shaw (1847-1919) has nonetheless received minimal attention from historians. Trisha Franzen rectifies that oversight with this first scholarly biography of Shaw, a study that illuminates Shaw's oft-ignored early years and challenges existing scholarship on her time in the suffrage movement.
An immigrant from a poor family, Shaw grew up in an economic reality that encouraged the adoption of non-traditional gender roles. Challenging traditional gender boundaries throughout her life, she put herself through college, worked as an ordained minister and a doctor, and built a tightly-knit family with her secretary and longtime companion Lucy E. Anthony.
Drawing on unprecedented research, Franzen shows how these circumstances and choices both impacted Shaw's role in the woman suffrage movement and set her apart from her native-born, middle- and upper-class colleagues. Franzen also rehabilitates Shaw's years as president of the National American Woman Suffrage Association, arguing that Shaw's much-belittled tenure actually marked a renaissance of both NAWSA and the suffrage movement as a whole.
Anna Howard Shaw: The Work of Woman Suffrage presents a clear and compelling portrait of a woman whose significance has too long been misinterpreted and misunderstood.
---
"While this is a scholarly work of remarkable academic acumen, its polished, passionate prose and intellectually stimulating content make it an accessible and thoroughly compelling read for anyone. Essential."--Choice

"Trisha Franzen has compiled two decade's worth of research to restore Shaw to her proper place in history. Franzen's work is well rounded, intriguing, and appeals to both a scholarly and a general audience. The author accomplishes her goal of blending the political with the personal, depicting Shaw's reality with a critical eye."--The Michigan Historical Review

"A thoughtful addition to our understanding of an important figure in the suffrage movement. It will do what its author intends: force all students of women's history to reevaluate Anna Howard Shaw as well as the clichéd doldrums of the movement."--American Historical Review

"A welcome and long-overdue shift in focus. . . . Shaw led an important life and, as Franzen notes, certainly deserves a prominent place in the United States and women's history."--Journal of American Studies
"Anna Howard Shaw's story is remarkable. Trisha Franzen has combined impressive access to sources with judicious use of evidence to produce a compelling book."--Kathryn Kish Sklar, author of Women's Rights Emerges Within the Anti-Slavery Movement
---
To order online:
//www.press.uillinois.edu/books/catalog/34men9yt9780252038150.html
To order by phone:
(800) 621-2736 (USA/Canada)
(773) 702-7000 (International)
Related Titles