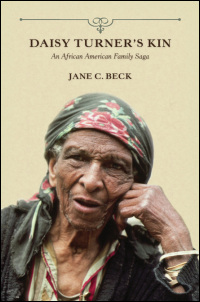 Daisy Turner's Kin
An African American Family Saga
Awards and Recognition:
• Chicago Folklore Prize, American Folklore Society, 2016
• Wayland D. Hand Prize, History and Folklore Section of the American Folklore Society, 2016
• A Choice Outstanding Academic Title, 2016
The oral history of an American family from Africa to the twentieth century
A daughter of freed African American slaves, Daisy Turner became a living repository of history. The family narrative entrusted to her--"a well-polished artifact, an heirloom that had been carefully preserved"--began among the Yoruba in West Africa and continued with her own long lifetime.
In 1983, folklorist Jane Beck began to interview Turner, then one hundred years old and still relating four generations of oral history. Beck uses Turner's storytelling to build the Turner family saga, using at its foundation the oft-repeated touchstone stories at the heart of their experiences: the abduction into slavery of Turner's African ancestors; Daisy's father learning to read; his return as a soldier to his former plantation to kill the overseer; Daisy's childhood stand against racism; and her family's life in Vermont. Beck weaves in historical research and offers a folklorist's perspective on oral history and the hazards and uses of memory.
---
"I met and filmed Daisy Turner for my Civil War series and was struck by her vibrancy and the power of her voice. How fortunate we are that Jane Beck was able to both record and authenticate her family narrative. It allows us new insights into the experience of four generations of a family who maintained their identity and self-respect in spite of the dehumanizing circumstances they lived through. What an engaging and powerful story!"--Ken Burns, filmmaker

"Folklorist Beck's story of the Turner family's transition from freedom to slavery to freedom again is a marvel of scholarly storytelling. . . . An engrossing American tale."--Publisher's Weekly

"Turner's recollections are interwoven with Beck's research to provide an astonishing saga of a single African American family, an example of the oral history tradition across two continents, and an amazing woman who bridges generations of her family."--Booklist

"This book belongs in every academic and public library. Essential."--Choice

"A deeply, patiently researched journey into the unusual English-African roots of a long-lived Grafton, Vermont, storyteller. . . . A well-excavated biography of a 'custodian of a multigenerational American family saga.'"--Kirkus Reviews

"If you are interested in learning how oral history can lead to discovery and help chronicle a family legacy, then you will find Daisy Turner's Kin: An African American Family Saga a necessary guidebook."--Oral History Review

"A well presented and evocative account of the Turner family's journey from slavery to prosperity in Grafton, Vermont. . . . Daisy Turner and her family's life stories are richly presented as Beck keeps her promise to write a book that will preserve the Turner family narrative."--Western Folklore

"Daisy Turner's Kin triumphs in demonstrating the importance of oral history. . . . A compelling story of a family that gives insights into a tumultuous period of transition in American History."--Journal of American Studies
"This amazing true story should be required reading for anyone who wants to understand American history. Jane Beck's seminal book, built upon decades of rare historical research combined with rich oral narratives, reads like a vivid novel. The central narrative portrays three generations of Turner men and women whose . . . creativity, resilience, and spiritual strength are at the root of their survival. Drawing upon letters, photos, local records, and oral recollection, the author has woven this compelling, necessary tale that in praise of Daisy Turner's determined truth-telling, encourages a reconsideration of traditional African American histories."--Ronne Hartfield, author of Another Way Home: The Tangled Roots of Race in One Chicago Family

"Beck has done an impeccable job of verifying the memories of Daisy Turner, clarifying what in her oral history is simply part of family lore and what is historically significant and accurate."--W. Ralph Eubanks, author of The House at the End of the Road: The Story of Three Generations of an Interracial Family in the American South

"A powerful vindication and thoughtful explication of the power and persistence of an oral tradition. Anchoring her work in long-term relationships and stellar research both in the library and in the field, Jane Beck shows how folk traditions, and the past, live on and shape our lives."--Debora Kodish, founder and former director of the Philadelphia Folklore Project
Publication of this book is supported by grants from the Andrew W. Mellon Foundation and the L. J. and Mary C. Skaggs Folklore Fund.
---
To order online:
//www.press.uillinois.edu/books/catalog/34pwe9dk9780252039232.html
To order by phone:
(800) 621-2736 (USA/Canada)
(773) 702-7000 (International)
Related Titles