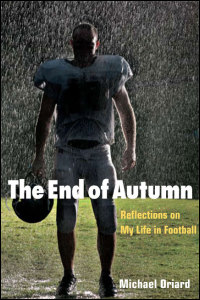 The End of Autumn
Reflections on My Life in Football
A classic recollection of college and pro football, from a player's inside perspective
Much of Michael Oriard's education took place outside the schoolroom of his native Spokane, Washington, during "slaughter practices" on high school football fields. He was taught to "punish" and "dominate," to rouse his school spirit with religion, and to "tough it" through injuries, even serious ones. At the age of eighteen he entered Notre Dame and walked onto the football team, where studying hard was never harder. By his senior year, playing for Ara Parseghian's Fighting Irish, he was the starting center and co-captain of the team.
After graduating, he signed with the Kansas City Chiefs and head coach Hank Stram. There he learned what it meant to be "owned." He rediscovered the game as it was played by grown men with families who were still treated like children and who dreaded nothing more than the end of their football careers. And without their fully realizing the consequences, every hard tackle inflicted its injury, some gradually growing into chronic conditions, some suddenly cutting a player's career short and ushering him off the field to be soon forgotten.
In this thoughtful narrative, Oriard describes the dreams of glory, the game day anxieties, the brutal training camps and harsh practices, his starry-eyed experience at Notre Dame, and the cold-blooded business of professional football. Told from the inside, the book leaves aside the hype and the pathos of the game to present a direct and honest account of the personal rewards but also the costs players paid to make others rich and entertained.
Originally published in 1982, The End of Autumn recounts the experiences of an ordinary player in a bygone era--before ESPN, before the Bowl Championship Series, before free agency and million-dollar salaries for NFL players. In a new afterword, Oriard reflects on the process of writing the book and how the game has changed in the thirty years since his "retirement" from football at the age of twenty-six.
---
"If you read one sports book this fall, try to make it The End of Autumn by Michael Oriard. This is a book about football, what it is or should be, the place it fills or should fill in American life, what it feels like when it's played properly."--Sports Illustrated
---
To order online:
//www.press.uillinois.edu/books/catalog/35def7rm9780252076695.html
To order by phone:
(800) 621-2736 (USA/Canada)
(773) 702-7000 (International)
Related Titles