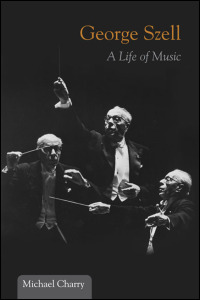 George Szell
A Life of Music
Awards and Recognition:
Received the Best Historical Research in Recorded Classical Music Award from the Association for Recorded Sound Collection (ARSC), 2012.
A comprehensive biography of one of the twentieth century's greatest conductors
This book is the first full biography of George Szell, one of the greatest orchestra and opera conductors of the twentieth century. From child prodigy pianist and composer to world-renowned conductor, Szell's career spanned seven decades, and he led most of the great orchestras and opera companies of the world, including the New York Philharmonic, the NBC and Chicago Symphonies, the Berlin Philharmonic, the Vienna Philharmonic and Opera, and the Concertgebouw Orchestra. A protégé of composer-conductor Richard Strauss at the Berlin State Opera, his crowning achievement was his twenty-four-year tenure as musical director of the Cleveland Orchestra. Under Szell's baton, the orchestra developed into one of the world's greatest ensembles, recording extensively and touring triumphantly in the United States, Europe, the Soviet Union, South Korea, and Japan.
Michael Charry, a conductor who worked with Szell and interviewed him, his family, and his associates over several decades, draws on this first-hand material and correspondence, orchestra records, reviews, and other archival sources to construct a lively and balanced portrait of Szell's life and work from his birth in 1897 in Budapest to his death in 1970 in Cleveland.
Readers will follow Szell from his career in Europe, Great Britain, and Australia to his guest conducting at the New York Philharmonic and his distinguished tenure at the Metropolitan Opera and Cleveland Orchestra. Charry details Szell's personal and musical qualities, his recordings and broadcast concerts, his approach to the great works of the orchestral repertoire, and his famous orchestrational changes and interpretation of the symphonies of Robert Schumann. The book also lists Szell's conducting repertoire and includes a comprehensive discography.
In highlighting Szell's legacy as a teacher and mentor as well as his contributions to orchestral and opera history, this biography will be of lasting interest to concert-goers, music lovers, conductors, musicians inspired by Szell's many great performances, and new generations who will come to know those performances through Szell's recorded legacy.
---
"Charry examines Szell's personal life in greater detail than has been afforded before, with a trove of previously unpublished letters. . . . Straightforward and erudite."--The Wall Street Journal

"Musicians, concertgoers, and general readers will be captivated by the author's behind-the-scenes look at what goes into shaping a world-class orchestra."--The Washington Times

"An excellent job of chronicling the everyday life of professional musicians."--HuffingtonPost.com

"A fine biography of one of the twentieth century's greatest classical conductors. This thorough biography of one of the most important figures on the American classical scene in the post-World War II era is a valuable contribution to the literature on classical music."--Library Journal

"A discerning and highly informed new biography. Charry makes a convincing case for admiring his subject's skill in musical matters without concealing Szell's many personality flaws."--Forward

"Charry not only gives us invaluable insights into his leadership style and musical tastes . . . but details some of the financial and political issues facing the orchestra during that era. . . . Perhaps the book's greatest value lies in humanizing a man whom many have come to see as a humorless (or perhaps joyless) martinet."--SymphonyNow

"Given the conductor's close identification with a symphonic orchestra, the extent of Szell's operatic experience may come as a surprise to some readers. Charry has done excellent work in illuminating this overshadowed facet of Szell's career."--Opera News

"A lively and balanced portrait of Szell's life and work."--Opera America

"Very well written and will surely appeal to anyone with an interest in George Szell."--American Record Guide

"Charry's achievement is unlikely to be surpassed for a long time, if ever, and the reader will come away with a real depth of insight into this towering, complex figure, which can only enhance our appreciation of his extraordinary accomplishment and artistic legacy."--Fanfare

"There is surely no one more qualified than Michael Charry to write Szell's biography."--Musical Opinion

"Reading this book would serve as a manual of music appreciation. Charry's tribute reflects the scope and brilliance of Szell's career, in the careful detailing of his performances and music critics' opinions of them."--Ohioana Quarterly
"A magnificent achievement. I was especially impressed by Mr. Charry's skill in conveying a deep admiration for his subject without falling into the trap of fawning or idol-worshipping--a quality seldom encountered in biographies of great conductors."--Stephen C. Hillyer, past president of the Fritz Reiner Society
Publication of this book was supported by a grant from the Henry and Edna Binkele Classical Music Fund.
---
To order online:
//www.press.uillinois.edu/books/catalog/35kpk5df9780252036163.html
To order by phone:
(800) 621-2736 (USA/Canada)
(773) 702-7000 (International)
Related Titles