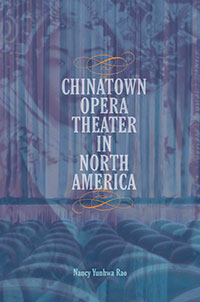 Chinatown Opera Theater in North America
Awards and Recognition:
• Irving Lowens Award, Society for American Music (SAM), 2019
• Music in American Culture Award, American Musicological Society (AMS), 2018
• Certificate of Merit for Best Historical Research in Recorded Country, Folk, Roots, or World Music, Association for Recorded Sound Collections (ARSC), 2018
• Outstanding Achievement in Humanities and Cultural Studies: Media, Visual, and Performance Studies, Association for Asian American Studies (AAAS), 2019
The transformation of Chinese music into American music in the early twentieth century
The Chinatown opera house provided Chinese immigrants with an essential source of entertainment during the pre–World War II era. But its stories of loyalty, obligation, passion, and duty also attracted diverse patrons into Chinese American communities
Drawing on a wealth of new Chinese- and English-language research, Nancy Yunhwa Rao tells the story of iconic theater companies and the networks and migrations that made Chinese opera a part of North American cultures. Rao unmasks a backstage world of performers, performance, and repertoire and sets readers in the spellbound audiences beyond the footlights. But she also braids a captivating and complex history from elements outside the opera house walls: the impact of government immigration policy; how a theater influenced a Chinatown's sense of cultural self; the dissemination of Chinese opera music via recording and print materials; and the role of Chinese American business in sustaining theatrical institutions. The result is a work that strips the veneer of exoticism from Chinese opera, placing it firmly within the bounds of American music and a profoundly American experience.
---
"Through her in-depth archival research and adept linguistic and musicological skills, [Rao] brings to light the importance of Chinese immigrant music making. . . . A significant contribution to our understanding of the history of music making, particularly in the United States."--Theatre Survey

"Achieves a sharpness of focus and depth of detail that takes our understanding of the history of Cantonese opera in North America to a new level . . . Chinatown Opera Theater in North America is an excellent piece of historical scholarship, and a unique and original contribution to our knowledge of Chinese performing arts in the Americas."--Ethnomusicology Forum

"Rao's book not only complements Wing Chung Ng's study of the rise of Cantonese Opera and Bell Yung's analysis of its creative process, but also constitutes a significant contribution to Asian-American Studies, Chinese Studies, and American music history."--China Review International

"Rao's book is an important text that should be included in musicology or ethnomusicology courses, not only for the historical and cultural reference that it brings to bear, but also for how the genre of Cantonese opera improves our understanding of the world today." --American Music Review

"Chinatown Opera Theater in North America is a treasure trove that celebrates the transnational development of Cantonese Opera in North America in the 1920s." --Studies in Theatre and Performance

"An engaging manifesto. . . . This book is an invaluable source for educators, students, and general readers." --Asian Theatre Journal

"The story Rao lays out in this work is rich and complex....It is therefore a story that should be of great interest to many CHINOPERL readers." --CHINOPERL

"The book is abundant in content and, most of all, admirable in the sense of connectivity Rao adroitly establishes." --Journal of the American Musicological Society

"Reading Nancy Yunhua Rao's Chinatown Opera Theater in North America is a great treat. . . . Rao's work makes a crucial contribution to scholarship on Chinese theatre, specifically Cantonese opera, in the diaspora, as well as to larger scholarly discussions on transationalism." --World of Music

"Chinatown Opera Theater in North America does nothing less than situate Cantonese opera firmly within the warp and weft of the American musical fabric. . . . All in all, Rao's study is a wonder." --Journal of the Society for American Music

"Rao's elegant writing provides insight into the mind of a scholar and researcher. The insistence on lifting 'the silence' and undoing 'invisibility' results in an influential recalibration of narratives on the history of American music." --MUSICultures

"Chinatown Opera Theater, with its new global knowledge, provides in that sense a compelling alternative space in which to contemplate -- for opera studies and the academy of which it is a part -- the ongoing and inescapable anxieties of Western-reflexive scholarship." --Cambridge Opera Journal

"Rao's detailed and engaging study reminds us of the xenophobia that continues to mark the Asian American experience. This book is implicitly an act of resistance not only against erasure, but also against racist tropes that have existed in history and reverberate into the present." --Theatre Journal
"Comprehensively conceived, exhaustively researched, and clearly written, Rao's book is an extraordinary achievement documenting a unique musical and theatrical genre in North American history. Showing how border crossing enriches the cultural tapestry of this land, it is a must-read for those interested in American music, theater, and social history."--Bell Yung, coeditor of Music and Cultural Rights
Publication supported by grants from the AMS 75 PAYS Endowment of the American Musicological Society, funded in part by the National Endowment for the Humanities and the Andrew W. Mellon Foundation, and from the Li Man-Kuei Fund for Chinese Performing Arts of the Chinese Performing Arts Foundation.
---
To order online:
//www.press.uillinois.edu/books/catalog/35rxb6yr9780252040566.html
To order by phone:
(800) 621-2736 (USA/Canada)
(773) 702-7000 (International)
Related Titles