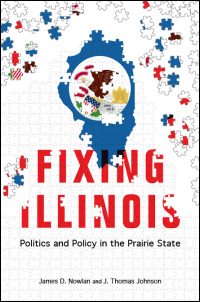 Fixing Illinois
Politics and Policy in the Prairie State
A blueprint for solving the state's problems, just in time for the 2014 elections
In the 1950s, thriving commerce, strong leadership, and geographical good fortune made Illinois one of the most envied states in the nation. Today, persistent problems have left it the butt of jokes and threatened it with fiscal catastrophe. In Fixing Illinois, James D. Nowlan and J. Thomas Johnson use their four decades of experience as public servants, Springfield veterans, and government observers to present a comprehensive program of almost one hundred specific policy ideas aimed at rescuing the state from its long list of problems, including:
An overhaul of state pension systems that includes more reasonable benefits and raising of the retirement age, among other changes;
Broadening of the tax base to include services and reductions in rates;
Raising funds with capital construction bonds to update and integrate the antiquated information systems used by state agencies;
Uprooting the state's entrenched culture of corruption via public financing of elections, redistricting reform, and revolving door prohibitions for lawmakers
Pointed, honest, and pragmatic, Fixing Illinois is a plan for effective and honest government that seeks an even nobler end: restoring our faith in Illinois's institutions and reviving a sense of citizenship and state pride.
"Jim Nowlan and Tom Johnson are two of the most knowledgeable people in understanding Illinois state government as a result of their many years in and around Illinois government. Their new book, Fixing Illinois, is an excellent overview of the many problems facing Illinois, and more importantly, how to fix those problems. Fixing Illinois is a must read for anyone who cares about the future of Illinois."--Governor Jim Edgar

"Fixing Illinois by James Nowlan and Thomas Johnson is a prodigious effort to diagnose the ailments of a fundamentally strong state and prescribe a wide range of measures to improve the accountability of government and diminish widespread perceptions of corruption. It is objective and reflects extensive research and the real-world experience of its authors. Fixing Illinois should be read by all concerned Illinois citizens and especially those who seek and occupy public office."--Senator Adlai E. Stevenson III

"We are truly in a sad state of affairs, and the authors mince no words in describing the problems we face. . . . But the authors are not in such despair that they don't have a bounty of suggestions as to how we can recover."--Ronald D. Michaelson, visiting professor of political studies at the University of Illinois at Springfield
---
To order online:
//www.press.uillinois.edu/books/catalog/35zfp8zn9780252079962.html
To order by phone:
(800) 621-2736 (USA/Canada)
(773) 702-7000 (International)
Related Titles
previous book
next book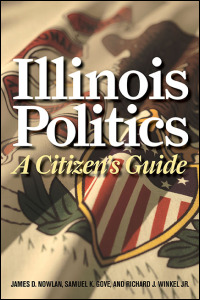 Illinois Politics
A Citizen's Guide
James D. Nowlan, Samuel K. Gove, and Richard J. Winkel Jr.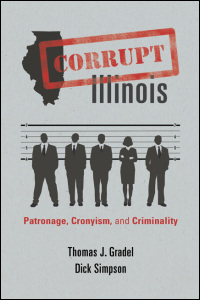 Corrupt Illinois
Patronage, Cronyism, and Criminality
Thomas J. Gradel and Dick Simpson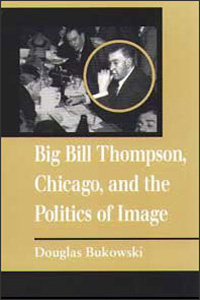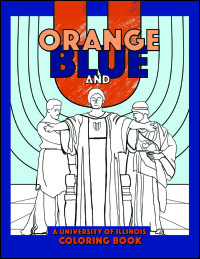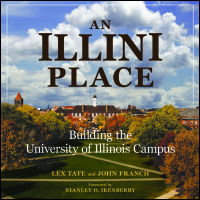 An Illini Place
Building the University of Illinois Campus
Lex Tate and John Franch