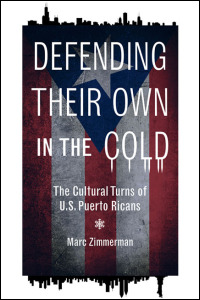 Defending Their Own in the Cold
The Cultural Turns of U.S. Puerto Ricans
Awards and Recognition:
Received an Honorable Mention in the Frank Bonilla Book Award Competition from the Puerto Rican Studies Association (PRSA), 2012.
A visual and textual journey through the cultural contributions of Puerto Rican artists in the United States
Defending Their Own in the Cold: The Cultural Turns of U.S. Puerto Ricans explores U.S. Puerto Rican culture in past and recent contexts. The book presents East Coast, Midwest, and Chicago cultural production while exploring Puerto Rican musical, film, artistic, and literary performance. Working within the theoretical frame of cultural, postcolonial, and diasporic studies, Marc Zimmerman relates the experience of Puerto Ricans to that of Chicanos and Cuban Americans, showing how even supposedly mainstream U.S. Puerto Ricans participate in a performative culture that embodies elements of possible cultural "Ricanstruction."
Defending Their Own in the Cold examines various dimensions of U.S. Puerto Rican artistic life, including relations with other ethnic groups and resistance to colonialism and cultural assimilation. To illustrate how Puerto Ricans have survived and created new identities and relations out of their colonized and diasporic circumstances, Zimmerman looks at the cultural examples of Latino entertainment stars such as Jennifer Lopez and Benicio del Toro, visual artists Juan Sánchez, Ramón Flores, and Elizam Escobar, as well as Nuyorican dancer turned Midwest poet Carmen Pursifull. The book includes a comprehensive chapter on the development of U.S. Puerto Rican literature and a pioneering essay on Chicago Puerto Rican writing. A final essay considers Cuban cultural attitudes towards Puerto Ricans in a testimonial narrative by Miguel Barnet and reaches conclusions about the past and future of U.S. Puerto Rican culture. Zimmerman offers his own "semi-outsider" point of reference as a Jewish American Latin Americanist who grew up near New York City, matured in California, went on to work with and teach Latinos in the Midwest, and eventually married a woman from a Puerto Rican family with island and U.S. roots.
---
"A book that will undoubtedly have an impact on US Puerto Rican Studies by expanding the repertoire of authors, works, and approaches that have traditionally defined the field."--Moreno: New Perspectives in U.S. Puerto Rican Cultural and Literary Studies

"Defending Their Own in the Cold brings to the fore a vibrant intellectual and artistic tradition. . . . Zimmerman, in beautifully rendered prose, captures the largesse of this tradition with the empathy of an insider and the expertise of an accomplished theoretician. His text is more than a defense, as the title may imply, but literary, artistic, and social analysis at its very best."--Centro Journal

"A healthy addition to any Latino Studies course focusing on art or literary movements. Defending Their Own in the Cold provides an introduction to contemporary cultural representation of Latinos and Puerto Ricans in the Midwest. Reflexive collections such as his offer both scholars and students a glimpse into the ways Puerto Ricans in the United States defend their own despite dominant misrepresentations of Latinos' integration and self-empowerment."--Latino Studies
"The author introduces insightful and provocative arguments about U.S. Puerto Rican cultural experiences and provides compelling illustrations. This is an important reference text that will undoubtedly stimulate further research."--Edna Acosta-Belen, coauthor of Puerto Ricans in the United States: A Contemporary Portrait
---
To order online:
//www.press.uillinois.edu/books/catalog/36dbe2kq9780252036460.html
To order by phone:
(800) 621-2736 (USA/Canada)
(773) 702-7000 (International)
Related Titles