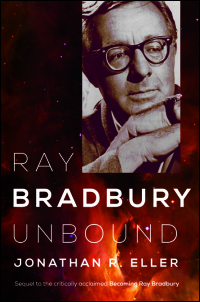 Ray Bradbury Unbound
Awards and Recognition:
• Finalist for the Locus Award, Nonfiction category, 2015
The second volume of the authoritative biography
Fully established in the slick magazines, award-winning, and on the brink of placing Fahrenheit 451 in the American canon, Ray Bradbury entered the autumn of 1953 as a literary figure transcending fantasy and science fiction. In Ray Bradbury Unbound, Jonathan R. Eller continues the story begun in his acclaimed Becoming Ray Bradbury, following the beloved writer's evolution from a short story master to a multimedia creative force and outspoken visionary.
Drawn into screenwriting by the chance to adapt Moby Dick for film, Bradbury soon established himself in Hollywood's vast and overlapping film and television empires. The work swallowed up creative energy once devoted to literary pursuits and often left Bradbury frustrated with studio executives.
Yet his successes endowed him with the gravitas to emerge as a much sought after cultural commentator. His passionate advocacy in Life and other media outlets validated the U.S. space program's mission--a favor repaid when NASA's astronauts gathered to meet Bradbury during his 1967 visit to Houston. Over time, his public addresses and interviews allowed him to assume the role of a dreamer of futures voicing opinions on technology, the moon landing, and humanity's ultimate destiny.
Eller draws on many years of interviews with Bradbury as well as an unprecedented access to personal papers and private collections to portray the origins and outcomes of Bradbury's countless creative endeavors. The result is the definitive story of how a great American author helped shape his times.
---
"Engaging . . . Eller's second volume of Bradbury's biography is ultimately a melancholy and cautionary tale."--Washington Post

"A fine biography of a fascinating man."--The Times Literary Supplement

"An intimate look at the working life of one of the most important twentieth-century writers. . . . The depth of insight supplied by Eller's archival research imbues this text with a fresh inquisitive style that informs and inspires. . . . A valuable addition to the library of any Bradbury fan."--Science Fiction Studies

"A thorough documentation of Bradbury's career. . . . This warm, informative biography depicts him as a thoughtful and disciplined writer who helped make science fiction a respected literary genre."--Kirkus

"Eller captures the joy of creations that new forms allowed Bradbury, such as the intensely visual interpretation of Moby Dick that he wrote for director John Huston. . . . Fans who know Bradbury only for his fiction are likely to enjoy this diverse look at his work and creative process."--Publishers Weekly

"Intimate, conscientious, and triumphant, a truly profound examination of Bradbury's accomplishments and legacy. Highly recommended for all sf lovers and those with an appreciation for non-fiction and literature."--Library Journal "Eller shows how Bradbury's work in the cinema (and his greatest success there) endowed him with a public gravitas that empowered him as a noteworthy speaker on issues pertinent to the Space Age. How the author of the once fantastic seeming Martian Chronicles could by the early 1970s speak realistically about a very likely journey to Mars in the not entirely distant future speaks, of course, for the acceleration of progress in recent times but also of this important writer's vision."--American Literary Scholarship

"Ray Bradbury Unbound does not just chronicle a life and a list of publications. It also carefully teases out pertinent artistic, social, and intellectual connections, analyzing them in ways that sometimes Bradbury himself could not."--Extrapolation



"A detailed and sensitive account of Bradbury's perception of his own relationship to his times and to the literary landscape in which he wrote." --Orbit
"Few contemporary authors have been written about as extensively as Ray Bradbury, but no one has surpassed Jonathan Eller. In his previous study, Becoming Ray Bradbury, he captured the odd nature of Bradbury's imagination perfectly in the context of his life and age--keeping a myriad of influences and ambitions in perspective. With the publication of Ray Bradbury Unbound, Eller not only confirms his position as the great comprehensive Bradbury scholar. He has also written what may be the best single account of a major science fiction author's rise to fame and achievement."--Dana Gioia, author of Pity the Beautiful and former chairman of the National Endowment for the Arts
---
To order online:
//www.press.uillinois.edu/books/catalog/36dmf5fw9780252038693.html
To order by phone:
(800) 621-2736 (USA/Canada)
(773) 702-7000 (International)
Related Titles