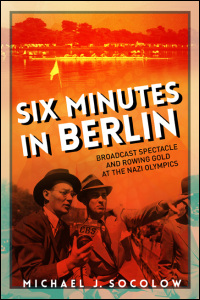 Six Minutes in Berlin
Broadcast Spectacle and Rowing Gold at the Nazi Olympics
Awards and Recognition:
• Broadcast Historian Award, Library of American Broadcasting Foundation (LABF) and the Broadcast Education Association (BEA), 2018
How one race spanned the globe and changed history
The Berlin Olympics, August 14, 1936. German rowers, dominant at the Games, line up against America's top eight-oared crew. Hundreds of millions of listeners worldwide wait by their radios. Leni Riefenstahl prepares her cameramen. Grantland Rice looks past the 75,000 spectators crowding the riverbank. Above it all, the Nazi leadership, flush with the propaganda triumph the Olympics have given their New Germany, await a crowning victory they can broadcast to the world.
The Berlin Games matched cutting-edge communication technology with compelling sports narrative to draw the blueprint for all future sports broadcasting. A global audience--the largest cohort of humanity ever assembled--enjoyed the spectacle via radio. This still-novel medium offered a "liveness," a thrilling immediacy no other technology had ever matched. Michael J. Socolow's account moves from the era's technological innovations to the human drama of how the race changed the lives of nine young men. As he shows, the origins of global sports broadcasting can be found in this single, forgotten contest. In those origins we see the ways the presentation, consumption, and uses of sport changed forever.
---
"Socolow . . . is well placed to set that Olympic final in the context of a Nazi propaganda machine that found its fullest expression at those Games. . . . The author's finer brushstrokes . . . paint glimmers of the horrors to come, but also the manifold personalities  comprising that uniquely American crew, and the sheer competitive thrill of the final itself, whose wake can still gently lift the world 80 years on."--Booklist

"A detailed text that combines a period in sports rowing history with the beginning of modern sports broadcasting. . . . Recommended."--Choice

"A most wonderful read."--Mystic Seaport Magazine

"Belongs on all history of sports or sports journalism syllabi. . . . Six Minutes in Berlin is among the best works of sports history."--American Journalism

"The stroke-by-stroke story of the Huskies' come-from-behind victory is a masterpiece of sports journalism. . . . the text reads as if Socolow had discovered that his true vocation is to be a novelist. He conveys the excitement of the final race so skillfully that he accelerated the pulse of at least one octogenarian historian. Six Minutes in Berlin is not just richly informative about sportscasting and eight-oared racing; it is also a good read."--Journal of American History

"Socolow provides original insights and reflections on the significance of the 1936 games as a dramatic spectacle in sports, media and social history. . . . Socolow has produced an important piece of literature, filling in some missing gaps in the history of the Berlin games in terms of an incredible sporting achievement, the spectacle and the broadcasting advances."--Sport in History

"Socolow strikes a strong balance between telling a thrilling tale while simultaneously providing a new and significant argument."--Journal of Sport History

"Graceful writing and compelling storytelling . . . Michael J. Socolow skillfully intertwines two dramatic stories and places them in their pivotal historical moment in Six Minutes in Berlin."--Journalism History

"Remarkable . . . Six Minutes in Berlin is an important, detailed, balanced, and well-written contribution to both sports and media history."--Journal of Radio & Audio Media

"With a sharp eye for detail, American author and media historian Michael Socolow combines elements of geopolitical intrigue, Olympic history and sports broadcasting exploration infused with vigorous enthusiasm for rowing in his notable November 2016 book Six Minutes in Berlin: Broadcast Spectacle and Rowing Gold and the Nazi Olympics."--Japan Times

"The incredible amount of research devoted to the three major subject areas, the fluid writing style, and the inherent drama of the 1936 Olympic rowing finale all work together to make Michael Socolow's Six Minutes in Berlin: Broadcast Spectacle and Rowing Gold at the Nazi Olympics a truly special book and one that will be enjoyed by historians and sports enthusiasts alike."--H-Net Review
"This is one of the greatest sports stories ever told: How a group of young oarsmen from the Pacific Northwest who could barely afford train fare to Chicago, much less Berlin, won gold medals in the famous Hitler Olympics of 1936. There are two gripping tales here, and Michael Socolow tells them both well. First, there is the David v. Goliath saga of the University of Washington crew team upsetting every Ivy League crew in America to travel to Berlin, where the Huskies prevailed over the greatest crews the world had ever seen. The second story is the birth of modern broadcast sports journalism. What would later become the "wide world of sports" was born in Berlin, where American radio networks implemented new technologies on an almost daily basis to bring their listeners sporting events in "real time"--an amazing accomplishment that we now take for granted. Socolow successfully weaves these two fascinating tales into one enthralling book. Bravo!"--Alex Beam, Boston Globe columnist

"Michael Socolow's Six Minutes in Berlin is an astute scholarly work and an enthralling piece of nonfiction, a book that reveals the human drama of the 1936 Olympics and illuminates the technology that brought it to the world."--Josh Levin, executive editor, Slate

"Sports, Nazism, and the glory days of radio come together seamlessly in Michael Socolow's gripping account of the hottest ticket at the 1936 Berlin Olympics, the Olympic Regatta. Offering expert play-by-play and vivid color commentary, Socolow provides a fascinating look at an epochal moment in sports and media history. Six Minutes in Berlin is a crystal-clear window into the birth of global journalism and trans-national fandom, shadowed throughout by the specter of a more ominous competition on the horizon."--Thomas Doherty, Brandeis University
---
To order online:
//www.press.uillinois.edu/books/catalog/36dtk7pp9780252040702.html
To order by phone:
(800) 621-2736 (USA/Canada)
(773) 702-7000 (International)
Related Titles