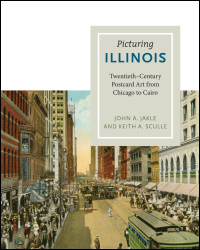 Picturing Illinois
Twentieth-Century Postcard Art from Chicago to Cairo
Reading the messages on postcards from Illinois
The American picture postcard debuted around the start of the twentieth century, creating an enthusiasm for sending and collecting postcard art that continued for decades. As a form of popular culture, scenic postcards strongly influenced how Americans conceptualized both faraway and nearby places through portrayals of landscapes, buildings, and historic sites. In this gloriously illustrated history of the picture postcard in Illinois, John A. Jakle and Keith A. Sculle study a rich and diverse set of images that chronicle what Illinoisans considered attractive, intriguing, and memorable. They also discuss how messages written on postcards reveal the sender's personal interpretation of local geography and scenery.
The most popularly depicted destination was Chicago, America's great boomtown. Its portraits are especially varied, showing off its high-rise architecture, its teeming avenues, and the vitality of its marketplaces and even slaughterhouses. Postcards featuring downstate locales, however, elaborated and reinforced stereotypes that divided the state, portraying the rest of Illinois as the counterpoint to Chicago's urban bustle. Scores of cards from Springfield, Peoria, Bloomington-Normal, Urbana-Champaign, Quincy, and Vandalia emphasize wide-open prairies, modest civic edifices, and folksy charm. The sense of dichotomy between Chicago and the rest of Illinois was, of course, a substantial fallacy, since the city's very prosperity depended upon the entire state's fertile farmlands, natural resources, and small industries.
Jakle and Sculle follow this dialogue between urban Chicago and rural downstate as it is illustrated on two hundred vintage postcards, observing both their common conventions and their variety. They also discuss the advances in printing technology in the early 1900s that made mass appeal possible. Providing rich historical and geographical context, Picturing Illinois: Twentieth-Century Postcard Art from Chicago to Cairo illustrates the picture postcard's significance in American popular culture and the unique ways in which Illinoisans pictured their world.
---
"A delightful way to look at the city and state."--Jewish Star

"Picturing Illinois succeeds in reconstructing the tourist's journey through Chicago and Downstate in an exceptionally engaging, informative, and often entertaining way."--Journal of Illinois History

"The authors succeed in their effort to establish postcards as worthy of analysis and to suggest their importance as texts through which individuals, private businesses, and governments engaged with state history and landscapes."--The Annals of Iowa
"This compelling collection of archive images shows Chicago and Illinois at their best. The postcard images, family portraits, and advertising art will stimulate readers' imaginations, making them yearn to have been there."--John C. Hudson, author of Chicago: A Geography of the City and Its Region

"A fascinating photographic look at the astounding metropolis and the Lincoln-haunted American heartland that together characterize our remarkable state of Illinois. This attractive book will have strong appeal for casual readers as well as serious students interested in Illinois history, photographic art, and the cultural impact of the picture postcard."--John E. Hallwas, author of Dime Novel Desperadoes: The Notorious Maxwell Brothers
---
To order online:
//www.press.uillinois.edu/books/catalog/37ane8xg9780252036828.html
To order by phone:
(800) 621-2736 (USA/Canada)
(773) 702-7000 (International)
Related Titles