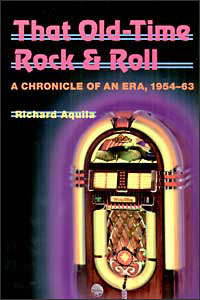 That Old-Time Rock & Roll
A Chronicle of an Era, 1954-63
Great fun, this illustrated, fact-filled trivia guidebook to the first decade of rock & roll, breezily written (but painstakingly accurate), will take the baby boomer down a musical memory lane strewn with genuine "golden-oldies."
From the huge success of the Chords' "Sh-Boom" to the arrival of the Beatles a decade later, rock 'n' roll influenced an entire generation of young Americans. Combining popular culture and social history with a sourcebook of lists and a biographical dictionary, That Old-Time Rock & Roll recreates the fun and excitement of rock's first decade and shows how the music reflected American life and thought in the 1950s and early 1960s.
Richard Aquila provides an overview of the birth and growth of this pivotal genre and demonstrates early rock's links to both the youth culture and the dominant culture of the Eisenhower/Kennedy era. Year-by-year timelines and a photo essay place the music in historical perspective by illustrating the decade's top news stories, movies, TV shows, fads, and lifestyles. Complementing this topical summary is a concise biographical dictionary that details all the performers who made the charts between 1954 and 1963, along with the label and chart position of each hit.
Both a history of the music and a history of the times, That Old-Time Rock & Roll is an outstanding source of information about the charter members of the baby-boom generation. In a new introduction, Aquila discusses how his long-time interest in rock 'n' roll came to fruition and surveys the progress of rock 'n' roll scholarship since his book's original publication.
---
"A nostalgic, trivia-laden book that looks at the early years of rock 'n' roll and the societal context in which it was formed. . . . A fine compendium on the subject, certain to make misty-eyed all those who came of age in the 1950s." -- Booklist
"Those looking for more than a superficial study of rock 'n' roll and the society that spawned it . . . will find this book to their liking. . . . [A] perfect bridge between the puff that often characterizes studies of the period and the scholarly tomes that can bore all but the dedicated student of the era." -- Chattanooga Times
To order online:
//www.press.uillinois.edu/books/catalog/37fgt4td9780252069192.html
To order by phone:
(800) 621-2736 (USA/Canada)
(773) 702-7000 (International)
Related Titles
previous book
next book