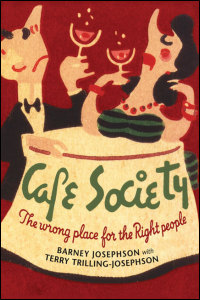 Cafe Society
The wrong place for the Right people
The story of the night club impresario whose wildly successful interracial club, Cafe Society, changed the American artistic landscape forever
Set against the drama of the Great Depression, the conflict of American race relations, and the inquisitions of the House Un-American Activities Committee, Cafe Society tells the personal history of Barney Josephson, proprietor of the legendary interracial New York City night clubs Cafe Society Downtown and Cafe Society Uptown and their successor, The Cookery. Famously known as "the wrong place for the Right people," Cafe Society featured the cream of jazz and blues performers--among whom were Billie Holiday, Big Joe Turner, Lester Young, Buck Clayton, Big Sid Catlett, and Mary Lou Williams--as well as comedy stars Imogene Coca, Zero Mostel, and Jack Gilford, the boogie-woogie pianists, and legendary gospel and folk artists.
A trailblazer in many ways, Josephson welcomed black and white artists alike to perform for mixed audiences in a venue whose walls were festooned with artistic and satiric murals lampooning what was then called "high society." In particular, he sought out and developed new performing talent, and he offered musicians and performers the rare security of continuous work for months and years.
Spanning half a century from the 1930s to the 1980s, Josephson's narrative depicts both the business and the artistic sides of Cafe Society while exposing the tensions between the club's own progressive interracial openness and the more restrictive social and political climate in which it evolved. When his brother Leon was targeted by the House Un-American Activities Committee, Barney was tarred by the same brush and forced to close Cafe Society. Now out of the limelight, Barney opened a hamburger restaurant, The Cookery, hiring unemployed dancers as waitresses.
Featuring scores of photographs that illustrate the vibrant cast of characters in Josephson's life, this exceptional book tells Josephson's personal history in his own words and through illuminating anecdotes, personal interviews, and historical research. A concept ahead of its time, Cafe Society was acclaimed then and now for its revolutionary innovations and creativity, inspired by the vision of one remarkable man.
---
"Cafe Society is a valuable document in the long, complex tale of America's popular culture. Barney Josephson played his part in that tale, and played it with honor. And he certainly had a long run."--The Wall Street Journal

"Mr. Josephson's voice comes through, gentle, passionate, occasionally larger than life."--The New York Times

"An epic ode to personal integrity, creative vision and entrepreneurial tenacity, shedding timely light on the germination of the civil-rights movement."--Kirkus Reviews

"Josephson was a great raconteur with a love for music, artistic people, and progressive politics. Photographs of the performers, as well as photos of the colorful and cartoonish murals that graced the walls, add to the evocation of a freewheeling ambience in a Depression-era cabaret."--Booklist

"This wonderful, uplifting book tells the story of Barney Josephson and Cafe Society, the jazz cabaret Josephson set up in Greenwich Village, New York City in 1938. . . . Packed with insights and new facts and anecdotes, and assiduously researched, Cafe Society brings Josephson and his achievements vividly to life, doing its subject, and jazz in general, proud."--AllAboutJazz.com

"The lineup of talent [Josephson] discovered and presented (Billie Holiday, Jack Gilford, Hazel Scott, Lena Horne, Zero Mostel and Josh White, among others) is so astonishingly hot that it makes you want to rush into the street and flag down a time-traveling taxi to take you to either the venue in Greenwich Village or its larger satellite Cafe Society Uptown."--Shelf Awareness

"Fascinating story of the founder of New York's Cafe Society nightclub. . . . Highly recommended."--Choice

"Well-told story entwines entrepreneurial vision, progressive social action and resonant history with stunning photos."--American History

"A very informative and entertaining read with the bonus of 50 pages of rare photographs. . . . Highly recommended."--Jazz Journal
"This highly entertaining and historically informative book will bring a lump to the throat of those who attended the jazz and comedy performances at Cafe Society Uptown and Downtown, and warm appreciation from those who learn about Barney Josephson's contribution to the success of some of the world's greatest jazz entertainers."--Carl Reiner

"This beautifully crafted book hypnotizes the reader with the magical notes of a bygone era and gives one the sensation of actually having experienced one of the most extraordinary eras in contemporary history. It is a superb tribute to the artists and musicians whose talents have made the world we live in a brighter place."--Lee Gabler

"We're different from other nightclubs. You go to these places, I won't mention names, but the initials are Stork Club and El Morocco. The cigarette girls come around and sell you little doggies, gardenias and other insults. Well, we don't have anything like that. We have a cigarette girl too. She just sells cigarettes. But we have something they don't have. We have another girl following our cigarette girl . . . calling out, 'ashes, ashes.'"--Jack Gilford

"Barney Josephson--A creative entrepreneur whose innovative ideas at Cafe Society in the 1930s and 1940s have influenced my life personally and have served as an inspiration to many program ideas on the Newport Jazz Festival since its inception in 1954."--George Wein, Newport Jazz Festival, 1974
---
To order online:
//www.press.uillinois.edu/books/catalog/37mcq3cr9780252034138.html
To order by phone:
(800) 621-2736 (USA/Canada)
(773) 702-7000 (International)
Related Titles