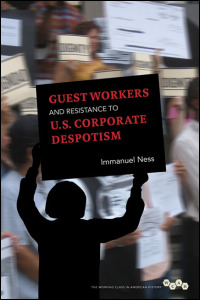 Guest Workers and Resistance to U.S. Corporate Despotism
Awards and Recognition:
• Best Book Award for 2011-2012, United Association for Labor Education (UALE), 2013
Exposing the corporate structures behind exploitative migrant labor programs
Political scientist Immanuel Ness thoroughly investigates the use of guest workers in the United States, the largest recipient of migrant labor in the world. Ness argues that the use of migrant labor is increasing in importance and represents despotic practices calculated by key U.S. business leaders in the global economy to lower labor costs and expand profits under the guise of filling a shortage of labor for substandard or scarce skilled jobs.
Drawing on ethnographic field research, government data, and other sources, Ness shows how worker migration and guest worker programs weaken the power of labor in both sending and receiving countries. His in-depth case studies of the rapid expansion of technology and industrial workers from India and hospitality workers from Jamaica reveal how these programs expose guest workers to employers' abuses and class tensions in their home countries while decreasing jobs for American workers and undermining U.S. organized labor.
Where other studies of labor migration focus on undocumented immigrant labor and contend immigrants fill jobs that others do not want, this is the first to truly advance understanding of the role of migrant labor in the transformation of the working class in the early twenty-first century. Questioning why global capitalists must rely on migrant workers for economic sustenance, Ness rejects the notion that temporary workers enthusiastically go to the United States for low-paying jobs. Instead, he asserts the motivations for improving living standards in the United States are greatly exaggerated by the media and details the ways organized labor ought to be protecting the interests of American and guest workers in the United States.
---
"Relevant to anyone with an interest in the labour movement today."--Socialism and Democracy

"Immanuel Ness's Guest Workers and Resistance to U.S. Corporate Despotism offers an important intervention in the immigration debate by offering a much-needed, critical examination of the existing US guest worker programs. . . . A timely and important read for migration scholars and students alike."--Social Forces
"The topics of guest worker programs, internal and international labor migration, and worker organizing are fundamental to understanding today's economy and labor market. Immanuel Ness's argument that business is actively involved in creating the notion of labor shortages while pushing programs to meet their interests is a crucial addition to the immigration policy debate."--Stephanie Luce, author of Fighting for a Living Wage

"Incisive, scholarly yet accessible, but always uncompromising, this invaluable new contribution to migration studies exposes ways in which conservative and Republican officials, trade unions, corporations, and federal government policies collude and conspire against labor and, indeed, human rights."--Saër Maty Bâ, author of Film and Migration: Africa in Global Contexts
---
To order online:
//www.press.uillinois.edu/books/catalog/37xdd4ze9780252036279.html
To order by phone:
(800) 621-2736 (USA/Canada)
(773) 702-7000 (International)
Related Titles