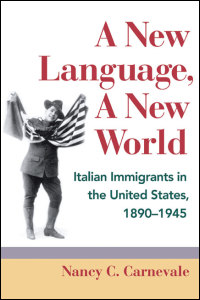 A New Language, A New World
Italian Immigrants in the United States, 1890-1945
Awards and Recognition:
Winner of a 2010 American Book Award from The Before Columbus Foundation
An insightful history of Italian immigrants' personal experience of language in America
An examination of Italian immigrants and their children in the early twentieth century, A New Language, A New World is the first full-length historical case study of one immigrant group's experience with language in America. Incorporating the interdisciplinary literature on language within a historical framework, Nancy C. Carnevale illustrates the complexity of the topic of language in American immigrant life. By looking at language from the perspectives of both immigrants and the dominant culture as well as their interaction, this book reveals the role of language in the formation of ethnic identity and the often coercive context within which immigrants must negotiate this process.
Carnevale provides the context for understanding the linguistic history of Italian Americans by presenting a brief overview of the politics of language in Italy, with its racialized split between North and South, multiple dialects, and class divisions. During the Age of Migration, Italian immigrants encountered a similarly contested linguistic terrain in America, where immigrant languages in general were devalued and knowledge of the English language served as a criterion for full membership in a racially constructed society.
Exploring a range of issues faced by Italians once they reached the United States, Carnevale considers the immigrant perspective on translation in both a literal linguistic sense and a figurative translation of self-identity. Italian Americans found a familiar voice in the popular entertainer Farfariello, whose comic songs incorporating the Italo-American idiom expressed problems of immigrant life as problems of communication--often between the sexes--suggesting the centrality of language in the immigrant imagination. And with the rise of fascism in the Italian homeland, the Italian language took on even more conflicted meanings in America as Italian Americans were regarded with suspicion and scrutiny.
Grounded in a diverse array of archival sources, this study deepens our understanding of linguistic transformations in America and what they mean for ethnic identity and the process of assimilation. The story of Italians living with a new language in a new world forms only one piece of America's larger linguistic history, a history that has been integral to American conceptions of nation, race, and ethnicity.
---
"Outstanding from start to finish. . . . The author displays exceptional range and depth in exploring not only the interior world of Italian American life, but also the intersections of this group's story with that of other immigrant communities and with society as a whole. . . . Highly recommended."--Choice

"A must for Italian American scholars."--Altreitalie

"Carnevale takes a fresh and intriguing approach by focusing on an issue to which historians have devoted surprisingly little attention."--Journal of American Ethnic History
"By focusing on the everyday linguistic practices of ordinary immigrants, Carnevale's study is truly path-breaking, opening new ground in the study of immigrant language usage. Refreshingly original and enormously stimulating."--Donna Gabaccia, coeditor of American Dreaming, Global Realities: Rethinking U.S. Immigration History

"In A New Language, A New World, Nancy C. Carnevale does something that historians have long claimed that they would do, but in fact never did: she takes language seriously. Carnevale focuses on the language world of Italian immigrants in the United States and examines in intricate and intimate detail how language shaped them and structured their encounter with America."--Hasia R. Diner, author of Hungering for America: Italian, Irish and Jewish Foodways in the Age of Migration
---
To order online:
//www.press.uillinois.edu/books/catalog/37ypq3cc9780252034039.html
To order by phone:
(800) 621-2736 (USA/Canada)
(773) 702-7000 (International)
Related Titles