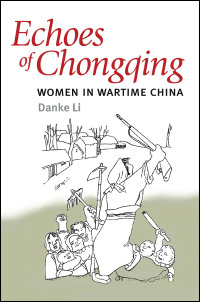 Echoes of Chongqing
Women in Wartime China
Awards and Recognition:
• Hong Kong Book Prize (for Chinese translation), 2014
The voices of ordinary women in China's War of Resistance against Japan
This collection of annotated oral histories records the personal stories of twenty Chinese women who lived in the wartime capital of Chongqing during China's War of Resistance against Japan during World War II. By presenting women's remembrances of the war, this study examines the interplay between oral history and traditional historical narrative, public discourse and private memories. The women interviewed came from differing social, economic, and educational backgrounds and experienced the war in a variety of ways, some of them active in the communist resistance and others trying to support families or pursue educations in the face of wartime upheaval. Their stories demonstrate that the War of Resistance had two faces: one presented by official propaganda and characterized by an upbeat unified front against Japan, the other a record of invisible private stories and a sobering national experience of death and suffering. The accounts of how women coped, worked, and lived during the war years in the Chongqing region recast historical understanding of the roles played by ordinary people in wartime and give women a public voice and face that, until now, have been missing from scholarship on the war.
---
"The stories of how women struggled and suffered in order to survive and support their families in Chongqing during China's War of Resistance against Japan rewrites historical understanding of the roles played by ordinary people in wartime and highlights the voices of women which, until now, have been largely neglected in scholarship on the war."--H-HistGeog

"A fascinating glimpse into a long-neglected aspect of Chinese history and the history of World War II."--Asian Affairs: An American Review

"An excellent source through which to understand how warfare affected the lives of ordinary people in East Asia in the 1930s and 1940s. Highly recommended."--Choice

"Danke Li's remarkable collection ... is a timely and welcome contribution to the fast-growing field of the study of wartime China."--The China Quarterly

"Prefaced with thoughtful analysis and commentary by the author, transcripts of interviews with twenty subjects feature a range of voices that together weave a multilayered and gendered narrative of China's wartime history, while offering refreshing insights into the nature of suffering, survival, and resistance during times of war and national crisis."--The Historian

"The contributions of Echoes of Chongqing are so substantial that it is sure to be a foundational text for future studies of gender and the war, state and society in wartime China, and the history of Chongqing."--Nan Nü
"This insightful study reveals the complex nature of the changes brought by war not only on gender relations, but also on Chinese society, culture, politics, and economics. A major contribution to the study of Chinese history."--Christina Kelley Gilmartin, author of Engendering the Chinese Revolution: Radical Women, Communist Politics, and Mass Movements in the 1920s
---
To order online:
//www.press.uillinois.edu/books/catalog/38fcf9tq9780252034893.html
To order by phone:
(800) 621-2736 (USA/Canada)
(773) 702-7000 (International)
Related Titles