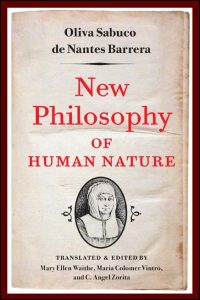 New Philosophy of Human Nature
Neither Known to nor Attained by the Great Ancient Philosophers, Which Will Improve Human Life and Health
Innovative and prescient philosophy of medicine by an overlooked Spanish woman philosopher.
This volume is a critical edition of the 1587 treatise by Oliva Sabuco, New Philosophy of Human Nature, written during the Spanish Inquisition. Puzzled by medicine's abject failure to find a cure for the plague, Sabuco developed a new theory of human nature as the foundation for her remarkably modern holistic philosophy of medicine.
Fifty years before Descartes, Sabuco posited a dualism that accounted for mind/body interaction. She was first among the moderns to argue that the brain--not the heart--controls the body. Her account also anticipates the role of cerebrospinal fluid, the relationship between mental and physical health, and the absorption of nutrients through digestion. This extensively annotated translation features an ample introduction demonstrating the work's importance to the history of science, philosophy of medicine, and women's studies.
---
"It is revered as one of the pioneering volumes in psychosomatic medicine by many philosophical and psychological circles alike. The book's author, Oliva Sabuco de Nantes Barrera, was one of the first philosophers to recognize the connection between emotions and physical health, however, because she was a woman in an era there the males were the only ones with any real social value, her work was promptly dismissed. . . . For anyone interested in the philosophy or the effects of emotions on physical health, this volume is definitely something to pick up. . . . It's a fairly fast . . . read, about an important monument in history that represents the intuition and creativity of the female mind."--Feminist Review

"Explores a diverse range of moral, ethical, philosophical, medical, and sociopolitical concerns. . . . With this English translation, Mary Ellen Waithe, Maria C. Vintro, and C. Angel Zorita have brought new life to this richly detailed and complex medico-philosophical treatise."--Isis

"I cannot imagine an English translation more carefully prepared than this one, which fully anticipates the difficulties and estrangement faced by a contemporary readership."--Bulletin of Spanish Studies

"This new edition of Sabuco's work is a great contribution to our study of medical debates and gender history in sixteenth-century Spain--and Europe."--Association for Spanish and Portuguese Historical Studies
"With its lucid translation, extensive introduction, and succinct notes, New Philosophy of Human Nature makes a powerful case for taking far more seriously this heretofore obscure figure in early modern science and philosophy."--John J. Conley, S.J., professor of philosophy, Fordham University

"Waithe, Vintró, and Zorita offer a much needed translation of an early modern Spanish philosophical text that has been crassly marginalized by a scholarly tradition too involved in perpetuating its own myths and prejudices. Mixing intelligence and knowledge with sensitivity and intuition, Oliva Sabuco's New Philosophy of Human Nature is rich in its rhetorical maneuvers, its sophisticated conceptual framework, and its ideological underpinnings. My hope is that this translation becomes instrumental in generating an in-depth, uncontaminated dialogue that releases this extraordinary philosophical text from the weight of the political and patriarchal agendas that have unfairly condemned it to oblivion and ridicule in Spanish letters."--Dámaris M. Otero-Torres, associate professor of Spanish, Rutgers University
---
To order online:
//www.press.uillinois.edu/books/catalog/38gxq6sc9780252031113.html
To order by phone:
(800) 621-2736 (USA/Canada)
(773) 702-7000 (International)
Related Titles