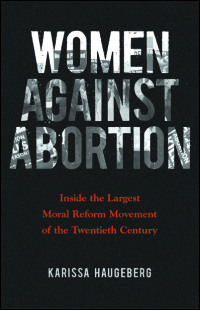 Women against Abortion
Inside the Largest Moral Reform Movement of the Twentieth Century
A balanced and overdue portrait of the foot soldiers behind a potent American cause
Women from remarkably diverse religious, social, and political backgrounds made up the rank-and-file of anti-abortion activism. Empowered by--yet in many cases scared of--the changes wrought by feminism, they founded grassroots groups, developed now-familiar strategies and tactics, and gave voice to the movement's moral and political dimensions.
Drawing on oral histories and interviews with prominent figures, Karissa Haugeberg examines American women's fight against abortion. Beginning in the 1960s, she looks at Marjory Mecklenburg's attempt to shift the attention of anti-abortion leaders from the rights of fetuses to the needs of pregnant women. Moving forward she traces the grassroots work of Catholic women, including Juli Loesch and Joan Andrews, and their encounters with the influx of evangelicals into the movement. She also looks at the activism of evangelical Protestant Shelley Shannon, a prominent pro-life extremist of the 1990s. Throughout, Haugeberg explores important questions such as the ways people fused religious conviction with partisan politics, activists' rationalizations for lethal violence, and how women claimed space within an unshakably patriarchal movement.
A balanced treatment of an explosive topic, Women against Abortion is an overdue portrait of the foot soldiers behind a potent American cause.
---
"Excellent."--The New York Review of Books

"Although female activists routinely ground their arguments in notions about women's roles as mothers and homemakers, they frequently subvert those restrictive roles – that is to say, they rail against feminism at the same time as they are empowered by it. In Women Against Abortion: Inside the Largest Moral Reform Movement of the Twentieth Century, Karissa Haugeberg explores this apparent contradiction and considers how early female anti-abortion activists rose to prominent positions in the male-dominated anti-abortion movement of the time all the while advocating traditional gender roles."--Times Literary Supplement

"This book is an important contribution to the history of abortion in the United States and provides significant new insights into the role of women in the pro-life movement. Haugeberg masterfully weaves together a sensitive and balanced account that is sure to be of great interest to scholars of reproductive rights and social movements."--H-Sci-Med-Tech

"[A] nuanced, sophisticated, balanced account. . . . Recommended."--Choice

"Vivid and compelling . . . It will be read with great interest by historians of late twentieth-century US political and social movements and by gender scholars in general."--Journal of American History

"Haugeberg should be commended for the balanced, respectful tone she assumes in this study of one of the most controversial issues in American history." --American Historical Review

"[A] compelling and original study." --Legal History

"Haugeberg's story is an important one. Her book tells the gut-wrenching story of deteriorating abortion access from a new, absolutely essential, perspective." --Reviews in American History

"Haugeberg has produced a fascinating study of the early roots of the pro-life movement that should be read by anyone with an interest in women's history, or who wants to trace the genealogy of the modern pro-life movement." --The Annals of Iowa
"Even to someone who has been studying reproductive rights for forty years, this book is an eye opener--a serious, feminist, and respectful history of women in the anti-abortion movement. It challenges some of the most often repeated generalizations about anti-abortion activists by examining the varied strategies and personalities as well as the internal conflicts. Possibly the best book yet on that movement, it is also a vivid and fast-moving read."--Linda Gordon, author of The Moral Property of Women: A History of Birth Control Politics in America

"This extraordinary study reveals the complex history of anti-abortion activities, one that was dominated by grassroots women, often working outside the mainstream and who, engaged in extensive, direct action, sometimes violent campaigns to end abortion rights in the United States. It will be invaluable for those who want to understand the history of women's participation in the American Pro-life movement."--Charissa Threat, author of Nursing Civil Rights: Gender and Race in the Army Nurse Corps

"In this fascinating new book, we meet Catholic and Protestant women whose views on protesting abortion were far from uniform. Women joined the movement as leaders and protesters, and Haugeberg introduces to us in vivid and humanizing detail several key women--nearly all of them white and religiously motivated--whose influence was significant, if little recognized before now."--Susan Freeman, author of Sex Goes to School: Girls and Sex Education before the 1960s
---
To order online:
//www.press.uillinois.edu/books/catalog/38snb7pt9780252040962.html
To order by phone:
(800) 621-2736 (USA/Canada)
(773) 702-7000 (International)
Related Titles