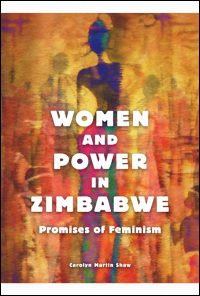 Women and Power in Zimbabwe
Promises of Feminism
Deferring dreams of equality in post-independence Zimbabwe
The revolt against white rule in Rhodesia nurtured incipient local feminisms in women who imagined independence as a road to gender equity and economic justice. But the country's rebirth as Zimbabwe and Robert Mugabe's rise to power dashed these hopes.
Using history, literature, participant observation, and interviews, Carolyn Martin Shaw surveys Zimbabwean feminisms from the colonial era to today. She examines how actions as clearly disparate as baking scones for self-protection, carrying guns in the liberation, and feeling morally superior to men represent sources of female empowerment. She also presents the ways women across Zimbabwean society--rural and urban, professional and domestic--accommodated or confronted post-independence setbacks. Finally, Shaw offers perspectives on the ways contemporary Zimbabwean women depart from the prevailing view that feminism is a Western imposition having little to do with African women.
The result of thirty years of experience, Women and Power in Zimbabwe addresses the promises of feminism and femininity for generations of African women.
---
"[An] engaging contribution to the anthropology of African feminism. Recommended."--Choice

"[Women and Power in Zimbabwe] has paved the way for future research on feminism in Zimbabwe to interrogate the reconfiguration of gender roles and relations and Shona patriarchy's inherent, adaptive mechanisms that accommodate situations that perplex its internal logic."--American Anthropologist
"What happens to dreams when the revolution falls short? Drawing together mixed genres including ethnography, performance and literature, Martin Shaw offers an engaging portrait of postcolonial Zimbabwe through the storied lives of women."--Paulla A. Ebron, author of Performing Africa

"Carefully illustrates Zimbabwean women's efforts to establish a feminist habitus and provides an excellent analysis of non-Western feminisms. The author dares to discuss some very intimate issues about feminism and sexuality that are rarely articulated in public."--Betty J. Harris, author of The Political Economy of the Southern African Periphery: Cottage Industries, Factories, and Female Wage Labour in Swaziland Compared

"Independence in Zimbabwe did not bring liberation for women, but failed promises gave momentum to their efforts to unite across differences. Carolyn Martin Shaw's intimate account of diverse women, from ex-combatants to beauty queens, NGO activists, and working wives and mothers, offers an engaged scholar's rich insights into the power of feminism to envision change."--Florence E. Babb, author of The Tourism Encounter: Fashioning Latin American Nations and Histories
---
To order online:
//www.press.uillinois.edu/books/catalog/38sqs8kd9780252039638.html
To order by phone:
(800) 621-2736 (USA/Canada)
(773) 702-7000 (International)
Related Titles