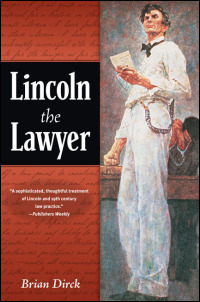 Lincoln the Lawyer
Awards and Recognition:
Awarded the Barondess/Lincoln Award of The Civil War Round Table of New York (2007).
What the law did to and for Abraham Lincoln, and its important impact on his future presidency
Despite historians' focus on the man as president and politician, Abraham Lincoln lived most of his adult life as a practicing lawyer. It was as a lawyer that he fed his family, made his reputation, bonded with Illinois, and began his political career. Lincoln the Lawyer explores the origins of Lincoln's desire to practice law, his legal education, his partnerships with John Stuart, Stephen Logan, and William Herndon, and the maturation of his far-flung practice in the 1840s and 1850s. Brian Dirck provides a context for law as it was practiced in mid-century Illinois and evaluates Lincoln's merits as an attorney by comparison with his peers. This fascinating history also examines Lincoln's clientele, how he charged his clients, and how he addressed judge and jury, as well as his views on legal ethics and the supposition that he never defended a client he knew to be guilty.
---
"This meticulous study of Lincoln leaves aside his well-covered presidency to spotlight his rather pedestrian career as an Illinois lawyer. . . . Historians, legal scholars and practicing lawyers will find a sophisticated, thoughtful treatment of Lincoln and 19th century law practice, but Dirck's command of legal theory and straightforward prose make this book appropriate even for those without prior knowledge of the law or Lincoln's life."--Publishers Weekly online

"In an acerbic, disabused, but ultimately convincing book, Lincoln the Lawyer, the historian Brian Dirck argues that Lincoln took away from the practice of law and the love of legal language both a feeling for 'grease'--that is, for finding an acceptable middle ground between contending parties--and a habit of detachment."--New Yorker

"A mixture of legal history, legal studies, and political theory, this book abounds with insightful analysis in spite of its relative brevity, especially notable for such an extraordinarily complex individual as Lincoln."--Library Journal (starred review)

"In an era filled with marginal works on Abraham Lincoln, it is refreshing to find a unique and fascinating history of Lincoln. . . . Highly Recommended."--Choice

"Dirck sheds light on how the original Great Commoner would become one of America's greatest lawyers in the presidential mansion. Readable and insightful, this volume deserves a place on every library shelf."--Journal of American History

"A thoughtful, detailed, and unassuming portrait of Lincoln as a working professional."--New York Law Journal Magazine

"Dirck is to be commended for giving us something new to think about in this fascinating book about our sixteenth president. . . . A persuasively and tightly argued book."--Fides et historia
"There is nothing in or out of print that comes close to the originality, breadth, and documentation of this welcome study of Lincoln's legal career."--Cullom Davis, former director, Lincoln Legal Papers

"Brian Dirck's excellent Lincoln the Lawyer complements and adds to the much needed resurgent study of Abraham Lincoln's legal skills and helps us understand why Lincoln became the lawyer in the White House."--Frank J. Williams, former Chief Justice of the Rhode Island Supreme Court and founding Chair of The Lincoln Forum
---
To order online:
//www.press.uillinois.edu/books/catalog/38weh5wf97800252031816.html
To order by phone:
(800) 621-2736 (USA/Canada)
(773) 702-7000 (International)
Related Titles