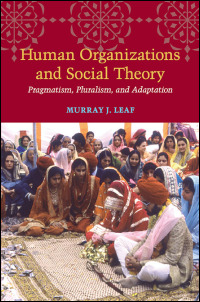 Human Organizations and Social Theory
Pragmatism, Pluralism, and Adaptation
An empirical analysis of social organization, powerfully integrating modern social, psychological, and legal theory
In the 1930s, George Herbert Mead and other leading social scientists established the modern empirical analysis of social interaction and communication, enabling theories of cognitive development, language acquisition, interaction, government, law and legal processes, and the social construction of the self. However, they could not provide a comparably empirical analysis of human organization, one that could show how interactive communication actually came about. They could say how people communicate to establish mutual relationships but not what they communicate.
The theory in this book fills in the missing analysis of organizations and specifies the pragmatic analysis of communication with an adaptation of information theory to ordinary unmediated communications. In the process it brings together four major streams of modern empirical social analysis: the developmental-social psychology associated with Jean Piaget and Lev Vygotsky; the cultural-ecological analyses associated with Esther Boserup; the language and culture tradition identified with Benjamin Whorf, Edward Sapir, and Paul Friedrich; and the more empirical streams of economic theory identified with Frank Knight, Paul Samuelson, and Theodore Schultz.
Human Organizations and Social Theory also provides the theoretical basis for understanding the success of pragmatically grounded public policies, from the New Deal through the postwar reconstruction of Europe and Japan to the ongoing development of the European Union, in contrast to the persistent failure of positivistic and Marxist policies and programs. Expanding on previous work in social constructivism, this consistent and comprehensive constructionist analysis of human organization powerfully integrates the most successful traditions of modern social, psychological, and legal theory.
"This stimulating work offers a new, promising, integrated theory of social behavior. A timely and welcome attempt to move social theory beyond the debate between positivism and postmodernism."--Martin Ottenheimer, author of The Anthropology of Kinship: An Introductory Text

"Murray J. Leaf's ambitious project for studying cultural meaning systems holds the promise of grounding anthropological knowledge about culture empirically. His efforts help establish the ontological status of culture and pave the way for a more scientific anthropology."--Lawrence A. Kuznar, author of Reclaiming a Scientific Anthropology

"Finally we have a book that addresses anthropology as a science predicated on our understanding of human societies developed through rigorous fieldwork and not through the distorting lens of science as it was defined by logical positivists. Leaf concludes that anthropology is an experimental science based on 'radical empiricism.' A must read for anyone who takes seriously the vision of anthropology as a science grounded in rigorous fieldwork."--Dwight Read, author of Artifact Classification: A Conceptual and Methodological Approach
---
To order online:
//www.press.uillinois.edu/books/catalog/39wcy5cs9780252034244.html
To order by phone:
(800) 621-2736 (USA/Canada)
(773) 702-7000 (International)
Related Titles