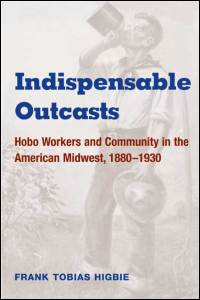 Indispensable Outcasts
Hobo Workers and Community in the American Midwest, 1880-1930
Awards and Recognition:
Winner of the Sharlin Memorial Award in Social Science History, 2004. Winner of the Taft Labor History Prize, 2004.
A study of seasonal workers in the midwest during the Progressive Era
Often overlooked in the history of Progressive Era labor, the hoboes who rode the rails in search of seasonal work have nevertheless secured a place in the American imagination. The stories of the men who hunted work between city and countryside, men alternately portrayed as either romantic adventurers or degenerate outsiders, have not been easy to find. Nor have these stories found a comfortable home in either rural or labor histories.
Indispensable Outcasts weaves together history, anthropology, gender studies, and literary analysis to reposition these workers at the center of Progressive Era debates over class, race, manly responsibility, community, and citizenship. Combining incisive cultural criticism with the empiricism of a more traditional labor history, Frank Tobias Higbie illustrates how these so-called marginal figures were in fact integral to the communities they briefly inhabited and to the cultural conflicts over class, masculinity, and sexuality they embodied. He draws from life histories, the investigations of social reformers, and the organizing materials of the Industrial Workers of the World and presents a complex and compelling portrait of hobo life, from its often violent and dangerous working conditions to its ethic of "transient mutuality" that enabled survival and resistance on the road.
More than a study of hobo life, this interdisciplinary book is also a meditation on the possibilities for writing history from the bottom up, as well as a frank discussion of the ways historians' fascination with personal narrative has colored their construction and presentation of history.
---
"A wonderful book, beautifully written and filled with insight and innovation."--Cindy Hahamovitch, author of The Fruits of Their Labor

"Higbie has produced a well-written and enlightening interdisciplinary study of seasonal laboring classes, with thoughtful criticism of the Progressive Era culture and successful persuasion regarding the considerable role hobo workers played in the social relations of the turn-of-the-century American Midwest."--Journal of Illinois History

"A penetrating new history of the nation's first large-scale temporary industrial work force. Higbie's challenging arguments about the complex and multivalent sources of class identity should serve as a guide to anyone writing about the social and cultural conflicts of late-nineteenth and early-twentieth century America."--The Journal of American History
---
To order online:
//www.press.uillinois.edu/books/catalog/42kwp5qp9780252027949.html
To order by phone:
(800) 621-2736 (USA/Canada)
(773) 702-7000 (International)
Related Titles