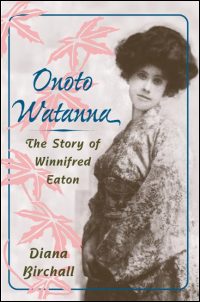 Onoto Watanna
The Story of Winnifred Eaton
The fascinating biography of an almost fictional best-selling novelist, journalist, and scriptwriter, who succeeded in overcoming the barriers of race and gender.
In 1901, the young Winnifred Eaton arrived in New York City with literary ambitions, journalistic experience, and the manuscript for A Japanese Nightingale, the novel that would sell many thousands of copies and make her famous. Hers is a real Horatio Alger story, with fascinating added dimensions of race and gender.
While commercially successful women writers were uncommon a century ago, Winnifred Eaton (1875-1954) cultivated a particular persona to set herself apart even within this rare breed. Born to a British father and a Chinese mother, Winnifred decided to capitalize on her exotic appearance while protecting herself from Americans' scorn of Chinese: she "became" Japanese, assuming the pen name Onoto Watanna. While her eldest sister, Edith Maude Eaton (now acknowledged as the mother of Asian American fiction), was writing stories of downtrodden Chinese immigrants under the name Sui Sin Far, Winnifred's Japanese romance novels and stories became all the rage, thrusting her into the glittering world of New York literati.
Diana Birchall chronicles the sometimes desperate, sometimes canny, always bold life of her "bad grandmother," about whom she knew almost nothing until her own adulthood. Here are the details of an amazing professional career as a journalist, a bestselling novelist, and a Hollywood scriptwriting protégée of Carl Laemmle at Universal Studios.
Here, too, is the personal saga of a woman who bore "a book and a baby a year" during her troubled first marriage--and who, at the age of fifty-six, wooed back her estranged second husband when her Hollywood career hit the skids during the Great Depression. Having achieved early fame as a Japanese romance writer, Winnifred later jettisoned the kimono and wrote books (including one entitled Cattle) set on the plains of Alberta, where her husband owned a ranch.
A chameleon? A desperate poseur? A shrewd businesswoman? She was all that, and much more, as Diana Birchall demonstrates. Navigating the shifting boundary between life and art, Birchall probes Winnifred's conflicting stories, personal tempests, and remarkable accomplishments, presenting a woman whose career was "sensational" in every sense.
"Immensely enjoyable reading. . . . Eaton is a fascinating woman, both in her personal and professional choices and in the many lives she led and the many worlds she inhabited. This is a story that must be told, and Birchall is the ideal person for the job. She tells Eaton's story with affection, energy, and sensitivity to her subject's unique voice and personality."--Eve Oishi, California State University at Long Beach
---
To order online:
//www.press.uillinois.edu/books/catalog/42qgp7tm9780252073885.html
To order by phone:
(800) 621-2736 (USA/Canada)
(773) 702-7000 (International)
Related Titles