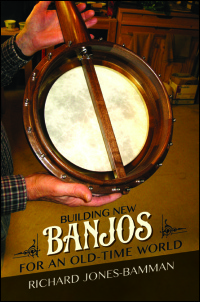 Building New Banjos for an Old-Time World
Awards and Recognition:
• Klaus P. Wachsmann Prize for Advanced and Critical Essays in Organology, the Society for Ethnomusicology (SEM), 2018
Artisans building musical instruments and community
Banjo music possesses a unique power to evoke a bucolic, simpler past. The artisans who build banjos for old-time music stand at an unusual crossroads--asked to meet the modern musician's needs while retaining the nostalgic qualities so fundamental to the banjo's sound and mystique.
Richard Jones-Bamman ventures into workshops and old-time music communities to explore how banjo builders practice their art. His interviews and long-time personal immersion in the musical culture shed light on long-overlooked aspects of banjo making. What is the banjo builder's role in the creation of a specific musical community? What techniques go into the styles of instruments they create? Jones-Bamman explores these questions and many others while sharing the ways an inescapable sense of the past undergirds the performance and enjoyment of old-time music. Along the way he reveals how antimodernism remains integral to the music's appeal and its making. He also delves into the omission of African Americans--the originators of the banjo--from both the instrument's popular history and the nostalgia engendered by the music, and the role contemporary banjo builders are playing to rectify this situation.
---
"The book offers models for researching the art of instrument makers. It shows the need for studying a wide range of crafters to learn about musical history."--Journal of Folklore Research

"The book presents a concise overview of banjo history and provides insight into construction trends and the cultural relevance of the instrument. Readers interested in the banjo's place in old-time music and its evolution over the past 50 years will find this book an informative and worthy read."--Old-Time Herald

"This book will be a valuable collection to the library of any banjo maker or player keen to embrace a keener understanding of how their instrument came to be." --Old Time News
"The issues raised by Jones-Bamman and the information he provides to aid in their discussion have never been brought together in one volume. A significant addition to the literature."--Bob Carlin, author of Banjo: An Illustrated History

"Completely unique in his focus on present-day banjo makers and the cultural significance of the banjo for builders and players today. Jones-Bamman shows us how the banjo taps deeply into conflicting ideas about modernity and the USA's checkered past."--Timothy J. Cooley, author of Surfing about Music
Publication of this book supported by grants from the Andrew W. Mellon Foundation, the AMS 75 PAYS Endowment of the American Musicological Society, funded in part by the National Endowment for the Humanities and the Andrew W. Mellon Foundation, and the L. J. and Mary C. Skaggs Folklore Fund.
---
To order online:
//www.press.uillinois.edu/books/catalog/43mhh3dt9780252041303.html
To order by phone:
(800) 621-2736 (USA/Canada)
(773) 702-7000 (International)
Related Titles