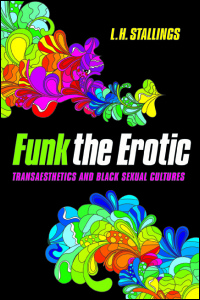 Funk the Erotic
Transaesthetics and Black Sexual Cultures
Awards and Recognition:
• Emily Toth Award for Best Single Work by One or More Authors in Women's Studies, Popular Culture Association/American Culture Association (PCA/ACA), 2016
• Finalist, 28th Annual Lambda Literary Awards, LGBT Studies, 2016
• Alan Bray Memorial Book Award, GL/Q Caucus of the Modern Language Association, 2016
Freeing your mind so the funk can follow
Funk. It is multisensory and multidimensional philosophy used in conjunction with the erotic, eroticism, and black erotica. It is the affect that shapes film, performance, sound, food, technology, drugs, energy, time, and the seeds of revolutionary ideas for black movements. But funk is also an experience to feel, to hear, to touch and taste, and in Funk the Erotic, L. H. Stallings uses funk in all its iterations as an innovation in black studies.
Stallings uses funk to highlight the importance of the erotic and eroticism in Black cultural and political movements, debunking "the truth of sex" and its histories. Brandishing funk as a theoretical tool, Stallings argues that Western theories of the erotic fail as universally applicable terms or philosophies, and thus lack utility in discussions of black bodies, subjects, and culture. In considering the Victorian concept of freak in black funk, Stallings proposes that black artists across all media have fashioned a tradition that embraces the superfreak, sexual guerrilla, sexual magic, mama's porn, black trans narratives, and sex work in a post-human subject position. Their goal: to ensure survival and evolution in a world that exploits black bodies in capitalist endeavors, imperialism, and colonization.
Revitalizing and wide-ranging, Funk the Erotic offers a needed examination of black sexual cultures, a discursive evolution of black ideas about eroticism, a critique of work society, a reexamination of love, and an articulation of the body in black movements.
---
"Funk the Erotic opens a new avenue in black thought and feeling, one dis/oriented by the sensorium rather than the cerebrum."--Feminist Wire

"Funk the Erotic is a groundbreaking work in its scope, its methodological breadth, and the creativity and originality of the ideas in introduces into several discourses. In theorizing funk as a specifically erotic, bodily, and embodiable hermeneutic for understanding sexuality across mediums and genres, Stallings proposes exciting shifts in black feminist, performance studies, sexuality studies, and literary studies methodologies."--American Quarterly
"Where Toni Morrison theorized 'eruptions of funk' in African American literature, this book funks the erotic taking up trans politics, nineteenth-century freaks, funky beats, and other queerly sexed subjects that make up 'profane sites of memory.'"--Jennifer Brody, author of Punctuation: Art, Politics, and Play

"Funk the Erotic is a passionately delivered and urgently necessary analysis of black sexuality, literature, and popular culture. By reading the 'funky erotixxx' of black sexual cultures against the dominant trends in black studies, L. H. Stallings offers us an alternative archive of African American literature, one composed of forgotten novels, sex manuals, YouTube videos, adult magazines, and so much more. Funk the Erotic is a bold, brilliant, unapologetically superfreaky text."--Erica R. Edwards, author of Charisma and the Fictions of Black Leadership
Support for this research was received from the Institute for Advanced Study at Indiana University, a research Center for the Office of the Vice Provost for Research
---
To order online:
//www.press.uillinois.edu/books/catalog/44aam5mk9780252039591.html
To order by phone:
(800) 621-2736 (USA/Canada)
(773) 702-7000 (International)
Related Titles
previous book
next book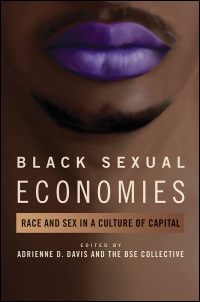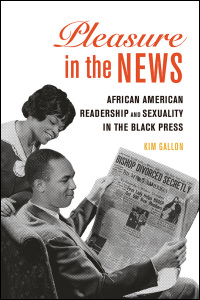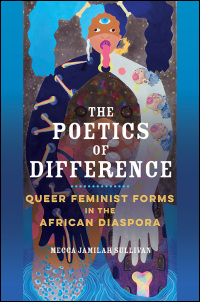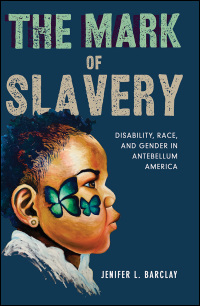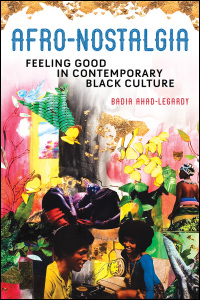 Afro-Nostalgia
Feeling Good in Contemporary Black Culture
Badia Ahad-Legardy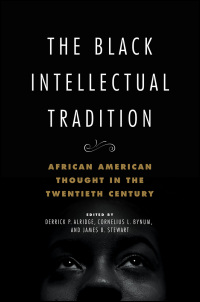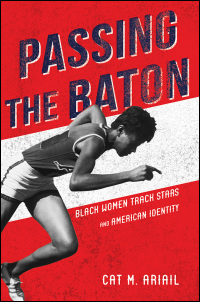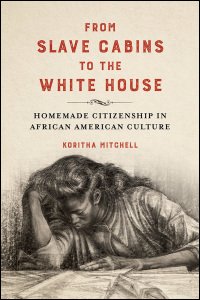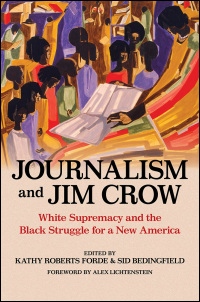 Journalism and Jim Crow
White Supremacy and the Black Struggle for a New America
Edited by Kathy Roberts Forde and Sid Bedingfield