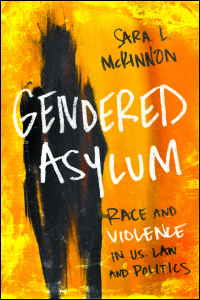 Gendered Asylum
Race and Violence in U.S. Law and Politics
Awards and Recognition:
• Bonnie Ritter Outstanding Feminist Book Award, Feminist and Women Studies Division, National Communication Association (NCA), 2017
The winding, still-unfinished road to justice for women seeking asylum
Women filing gender-based asylum claims long faced skepticism and outright rejection within the United States immigration system. Despite erratic progress, the United States still fails to recognize gender as an established category for experiencing persecution. Gender exists in a sort of limbo segregated from other aspects of identity and experience.
Sara L. McKinnon exposes racialized rhetorics of violence in politics and charts the development of gender as a category in American asylum law. Starting with the late 1980s, when gender-based requests first emerged in case law, McKinnon analyzes gender- and sexuality-related cases against the backdrop of national and transnational politics. Her focus falls on cases as diverse as Guatemalan and Salvadoran women sexually abused during the Dirty Wars and transgender asylum seekers from around the world fleeing brutally violent situations. She reviews the claims, evidence, testimony, and message strategies that unfolded in these legal arguments and decisions, and illuminates how legal decisions turned gender into a political construct vulnerable to American national and global interests. She also explores myriad related aspects of the process, including how subjects are racialized and the effects of that racialization, and the consequences of policies that position gender as a signifier for women via normative assumptions about sex and heterosexuality.
Wide-ranging and rich with human detail, Gendered Asylum uses feminist, immigration, and legal studies to engage one of the hotly debated issues of our time.
---
"Recommended."--Choice

"Mckinnon draws out several key themes and conclusions, repeatedly highlighting how U.S. adjudicators 'otherize' gender-based violence and overlay a racist component to the harm that women asylum seekers have endured."--Criminal Law and Criminal Justice Books

"Gendered Asylum represents a considerable contribution to scholarship on gender and sexuality based asylum and will be useful to scholars in a range of areas, including transnational feminist studies, legal studies, rhetoric, immigration, and asylum and refugee studies."--International Migration Review

"Gendered Asylum is a valuable addition to recent work on human rights, immigration, and gender." --Quarterly Journal of Speech

"Gendered Asylum provides a rich and crucial intervention that expands our comprehension of gender and gender violence in U.S. asylum cases." --AED: A Journal in GLBTQ Worldmaking

"McKinnon provides a deeply nuanced analysis of gender as a political category in asylum law." --Ethnic and Racial Studies
"Approaching law as rhetoric, McKinnon meticulously traces the evolution of gender as a legal concept and politically protected category in US asylum law and politics. In her innovative articulations, she unearths the rhetorical implications of gender as a political concept in transnational case studies and contexts that span over 30 years to show how gendered subjects have been made intelligible–or not–as persons worthy of US protection. Importantly, her interdisciplinary approach reveals that such liberal approaches to gender as a protected category are predicated on a one-sex and one-gender system of categorization that ultimately reinforces the universality of the male-assigned subject as the neutral sexed subject for whom asylum reliefs are intended. Her intersectional work further demonstrates how the U.S. is imagined as exceptional through such narrow constructions of gender. Notably, gender and gender-based violences are characterized in her work as experiences for particular bodies from particular geographies to reveal a racialized sexuality as an organizing principle and structuring logic of US asylum law and politics that ultimately serves as a neoliberal technique of migration control. In addressing one of the most urgent political issues of our time, Gendered Asylum: Race and Violence in U.S. Law and Politics is at once brilliant, timely, and urgent. It is a must read for transnational feminist scholars, legal and rhetorical studies scholars, immigration scholars, and all who are interested in migration and asylum."--Adela C. Licona, author of Zines in Third Space: Radical Cooperation and Borderlands Rhetoric

"Sara McKinnon's important book offers stunningly insightful and grounded examples of how twentieth and twenty-first century U.S. asylum decisions attempt to control non-normative gendered and sexual subjects. Her case studies carefully unearth the rhetorical relationships among gender's emergence as a political category, transnational imaginaries, and neoliberalisms' rationalities; these powerful discourses deeply saturate US asylum logic. This well-researched and beautifully written study should be widely read by scholars who seek to gain insight into how a racialized sex/gender system works--along with geopolitical power--to codify not only the US asylum system, but also other political institutions whose policies regulate people's everyday well-being."--Rebecca Dingo, author of Networking Arguments: Rhetoric, Transnational Feminism, and Public Policy Writing

"With a nuanced and deft analysis of gender as a political category in asylum law, Sara McKinnon compels readers to recognize the shifting terrains of gender intelligibility and the material implications of that intelligibility, beautifully demarcating which bodies are deemed sufficiently endangered as to merit asylum. Her account demands that scholars recognize gender and violence as complexly racialized and tied to presumptions of sex and sexuality. This is a book that will have deep resonance across disciplines."--Lisa A. Flores, University of Colorado Boulder
Support for this research was provided by the University of Wisconsin–Madison Office of the Vice Chancellor for Research and Graduate Education with funding from the Wisconsin Alumni Research Foundation.
---
To order online:
//www.press.uillinois.edu/books/catalog/44gqf6qy9780252040450.html
To order by phone:
(800) 621-2736 (USA/Canada)
(773) 702-7000 (International)
Related Titles