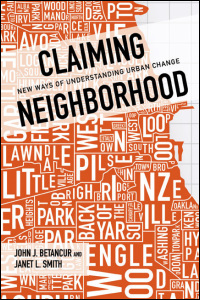 Claiming Neighborhood
New Ways of Understanding Urban Change
How power and perception transforms the City of Neighborhoods
Using historical case studies in Chicago, John J. Betancur and Janet L. Smith examine the forces shaping neighborhoods today, focusing on both theoretical and practical explanations for why neighborhoods change.
As the authors show, a diverse collection of people and institutions, including urban policy experts, elected officials, investors, speculators, academics, service providers, resident leaders, churches, and community-based organizations, compete to control how neighborhoods change and are characterized. Their interactions and power plays ultimately determine the fate of neighborhoods and their residents. A key argument made is that in our postindustrial economy, neighborhoods have become sites of consumption and spaces to be consumed. Discourse is used to add and subtract value from them—for example, a romanticized image of "the neighborhood" too often exaggerates or obscures race and class struggles while celebrating diversity and income mixing. The authors challenge this image, arguing that in order to explain and govern urban space more equitably, scholars and policy makers must reexamine what sustains this image and the power effects produced.
Combining rich scholarship with fresh on-the-ground research, Betancur and Smith reveal the underlying dynamics that create and re-create neighborhoods in a contemporary American metropolis.
---
"Claiming Neighborhood makes a compelling contribution to the neighborhood change conversation. The research does an excellent job of demonstrating the complexity and diversity of interests in neighborhoods." --Journal of Urban Affairs

"In all, the importance of Claiming Neighborhood is that it transcends Chicago and...can be beneficial to other approaches in looking at forces that impact spaces and centers in cities around the United States." --National Political Science Review
"Claiming Neighborhood: New Ways of Understanding Urban Change largely lives up to its name. I have wanted to read a book about Chicago as a whole in order to place the voluminous literature on specific Chicago neighorhoods, forms of housing, or specific problems. Gentrification, decline, and stagnation are traced through public policy and market based changes in three neighborhoods. Drawing on Levebvre as well as other French social theorists, the authors develop a more agentic view of neighborhood conditions over time. They specifically focus on the role of social science representations of space in shaping these trajectories. Urban scholars, as well as urban planners would do well to read this. It also would provide a useful text for Urban Planning , Geography, and Urban Studies students." --Susan Saegert, The Graduate Center of the City University of New York
---
To order online:
//www.press.uillinois.edu/books/catalog/44gyw3my9780252040504.html
To order by phone:
(800) 621-2736 (USA/Canada)
(773) 702-7000 (International)
Related Titles