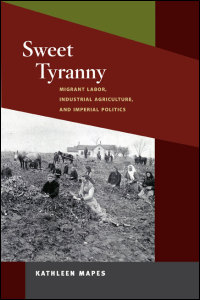 Sweet Tyranny
Migrant Labor, Industrial Agriculture, and Imperial Politics
Awards and Recognition:
Winner of the Richard L. Wentworth/Illinois Award in American History, 2010.
Amid America's sugar industry, a bitter debate over imperialism and immigration
In this innovative grassroots to global study, Kathleen Mapes explores how the sugar beet industry transformed the rural Midwest through the introduction of large factories, contract farming, and foreign migrant labor. Sweet Tyranny calls into question the traditional portrait of the rural Midwest as a classless and homogenous place untouched by industrialization and imperialism. Identifying rural areas as centers for modern American industrialism, Mapes contributes to the ongoing expansion of labor history from urban factory workers to rural migrant workers. She engages with a full range of people involved in this industry, including midwestern family farmers, industrialists, eastern European and Mexican immigrants, child laborers, rural reformers, Washington politicos, and colonial interests.
Engagingly written, this book demonstrates that capitalism was not solely a force from above but was influenced by the people below who defended their interests in an ever-expanding market of imperialist capitalism. The fact that the United States acquired its own sugar producing empire at the very moment that its domestic sugar beet industry was coming into its own, as well as the fact that the domestic sugar beet industry came to depend on immigrant workers as the basis of its field labor force, magnified the local and global ties as well as the political battles that ensued. As such, the issue of how Americans would satiate their growing demand for sweetness--whether with beet sugar grown at home or with cane sugar raised in colonies abroad--became part of a much larger debate about the path of industrial agriculture, the shape of American imperialism, and the future of immigration.
---
"Mapes tells the understudied sugar beet industry's fascinating story, and links events in Michigan between 1899 and 1940 to the broader national and global considerations. . . . Recommended."--Choice

"Mapes has uncovered patterns of global trade and labor markets that have had a profound impact on American society from the turn of the twentieth century up to the present day."--Michigan Historical Review

"A very nuanced yet powerful examination of the triumph of industrialism over agricultural America."--The Annals of Iowa

"A compelling account of the deeply interconnected worlds created by the emergence of a new cash crop."--American Historical Review
"A fascinating work that provides important information about the history of agriculture and the construction of the term 'factories in the field' and its connections with the American empire. This book should become a mainstay among works in ethnic studies, agricultural labor, corporate power, and the state."--Gilbert G. Gonzalez, author of Culture of Empire: American Writers, Mexico, and Mexican Immigrants, 1880-1930

"Fascinating and beautifully crafted, Sweet Tyranny places growers, workers, and processors at the center of national debates over immigration, imperialism, protectionism, child labor, and a living wage."--Cindy Hahamovitch, author of The Fruits of Their Labor: Atlantic Coast Farmworkers and the Making of Migrant Poverty, 1870-1945
---
To order online:
//www.press.uillinois.edu/books/catalog/44yxy6hh9780252034367.html
To order by phone:
(800) 621-2736 (USA/Canada)
(773) 702-7000 (International)
Related Titles