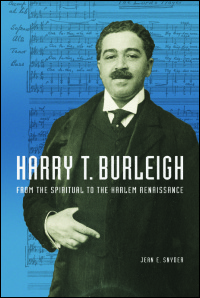 Harry T. Burleigh
From the Spiritual to the Harlem Renaissance
Reclaiming the unique life and soaring art of an essential American composer
Harry T. Burleigh (1866-1949) played a leading role in American music and culture in the twentieth century. Celebrated for his arrangements of spirituals, Burleigh was also the first African American composer to create a significant body of art song. An international roster of opera and recital singers performed his works and praised them as among the best of their time.
Jean E. Snyder traces Burleigh's life from his Pennsylvania childhood through his fifty-year tenure as soloist at St. George's Episcopal Church in Manhattan. As a composer, Burleigh's pioneering work preserved and transformed the African American spiritual; as a music editor, he facilitated the work of other black composers; as a role model, vocal coach, and mentor, he profoundly influenced American song; and in private life he was friends with Antonín Dvořák, Marian Anderson, and Will Marion Cook. Snyder provides rich historical, social, and political contexts that explore Burleigh's professional and personal life within an era complicated by changes in race relations, class expectations, and musical tastes.
Drawing on exhaustive research into archives and family histories, Harry T. Burleigh reclaims the life and art of an essential American composer.
---
"The definitive biography of Burleigh. . . . worth reading for anyone interested in the cultural life of African American communities in the "Promised Land" after the Civil War. . . . a worthy addition to any library, personal or institutional, that collects information about black music and important figures in African American history."--Black Grooves

"Dr. Snyder is a good storyteller. Her words flow easily across the page and assure the reader that a rewarding journey lies ahead. . . . Snyder is to be congratulated for her biography of "this grand old man," and her efforts demand the immediate attention of readers."--The American Organist

"In addition to a detailed account of Burleigh's relationships with his contemporaries, his complex marital life, and his successful performing career, Snyder provides valuable musicological analysis of Burleigh's compositions and arrangements. Highly recommended."--Choice
"Jean E. Snyder's brilliant encyclopedic evaluation of the life and legacy of Harry Thacker Burleigh reveals an intriguing lode of personal and professional detail about the iconic singer whose seminal influence in American compositional history is appreciated today by precious few."--George I. Shirley, Grammy Award winner and Director of the Vocal Arts Division, University of Michigan

"By incorporating the unique perspective offered by members of Harry T. Burleigh's family, Jean Snyder makes a valuable and much-needed contribution to the literature on one of the greatest African-American musical figures of the nineteenth and twentieth centuries. Moreover, Snyder's work is timely since it coincides with the Burleigh sesquicentennial celebration."--Samuel A. Floyd, Jr., author of The Power of Black Music: Interpreting Its History from Africa to the United States

"The definitive biography of Burleigh, unlikely to be superseded in the near future."--Thomas Riis, author of Just before Jazz: Black Musical Theater in New York, 1890–1915
Publication of this book was supported by grants from the Lloyd Hibberd Endowment of the American Musicological Society, funded in part by the National Endowment for the Humanities and the Andrew W. Mellon Foundation and from the Henry and Edna Binkele Classical Music Fund.
---
To order online:
//www.press.uillinois.edu/books/catalog/45dsx4pf9780252039942.html
To order by phone:
(800) 621-2736 (USA/Canada)
(773) 702-7000 (International)
Related Titles