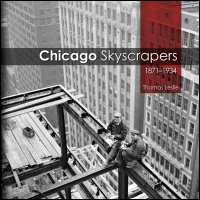 Chicago Skyscrapers, 1871-1934
A detailed tour, inside and out, of Chicago's distinctive towers from an earlier age
For more than a century, Chicago's skyline has included some of the world's most distinctive and inspiring buildings. This history of the Windy City's skyscrapers begins in the key period of reconstruction after the Great Fire of 1871 and concludes in 1934 with the onset of the Great Depression, which brought architectural progress to a standstill. During this time, such iconic landmarks as the Chicago Tribune Tower, the Wrigley Building, the Marshall Field and Company Building, the Chicago Stock Exchange, the Palmolive Building, and many others rose to impressive new heights, thanks to innovations in building methods and materials. Solid, earthbound edifices of iron, brick, and stone made way for towers of steel and plate glass, imparting a striking new look to Chicago's growing urban landscape.
Thomas Leslie discusses Chicago Skyscrapers
Thomas Leslie reveals the daily struggles, technical breakthroughs, and negotiations that produced these magnificent buildings. The book includes detailed analyses of how foundation materials, framing structures, and electric lighting developed throughout the years, showing how the skeletal frames of the Rookery, Ludington, and Leiter Buildings led to the braced frames of the Masonic Temple and Schiller Building and eventually to the concealed frames of the City Opera, Merchandise Mart, and other Chicago landmarks. Leslie also considers how the city's infamous political climate contributed to its architecture, as building and zoning codes were often disputed by shifting networks of rivals, labor unions, professional organizations, and municipal bodies.
Featuring more than a hundred photographs and illustrations of the city's physically impressive and beautifully diverse architecture, Chicago Skyscrapers, 1871–1934 shows how during these decades, Chicago's architects, engineers, and builders learned from one another's successes and failures to create an exceptionally dynamic, energetic period of architectural progress.
---
"Sure to become the new standard work on the subject."--Journal of Illinois History

"How often does one read the proclamation by Windy City journalists that Chicago was the cradle of modern architecture? In this book, Leslie reshapes that history with deep scholarship, immaculate prose, highly informative graphics, and the rare understanding of buildings that comes from being both a practitioner and an academic. Essential."--Choice

"Chicago Skyscrapers goes well beyond the many glossy, superficial coffee-table books that celebrate the city's architecture. Leslie instead provides a sophisticated examination of his subject, educating readers who are interested and willing to dig deeper."--Chicago Book Review

"A sweeping and thorough examination of the forces that shaped that long generation of building construction--soil conditions, fire, materials, programs, technologies, clients, and codes. A thoughtful and fascinating view of an immensely active time in the history of Chicago architecture."--Indiana Magazine of History

"Combining numerous elements--architectural and construction history; cultural, technological, and social history; political, planning, and economic history--Leslie presents a story that rings true as a portrait of professional life in the building world in all its ambition and ambiguity."--Journal of the Society of Architectural Historians
"This groundbreaking and ambitious study provides a thorough technical history of the development of Chicago skyscrapers in the late nineteenth and early twentieth centuries. Thomas Leslie's work on this vital subject synthesizes existing research and extends the field in exciting new directions."--John A. Ochsendorf, Massachusetts Institute of Technology
---
To order online:
//www.press.uillinois.edu/books/catalog/45fqq6ze9780252037542.html
To order by phone:
(800) 621-2736 (USA/Canada)
(773) 702-7000 (International)
Related Titles