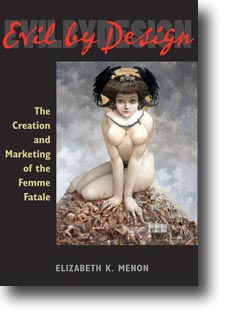 Evil by Design
The Creation and Marketing of the Femme Fatale
French print media and the image of the "depraved" woman in the Belle Epoque
Evil by Design documents the search for the origins of the iconic "femme fatale." Depicted as a dangerous, depraved, and deadly woman, this image was found frequently in Salon paintings from 1885 to 1910.
Elizabeth K. Menon's study is the first to use popular sources to make the critical link between the femme fatale and the rise of feminism. In addition to the Salon paintings, Menon sifts through a variety of popular sources, including French illustrated journals, literature, posters, and decorative arts. Over 120 images depict women with serpents, evil flowers, and even miniature men having their hearts cooked. She argues that the evolution of the femme fatale, with both literary and visual links to the biblical Eve figure, came as a response to increasing feminism and the desire by men to halt its spread.
---
"This exploration of the femme fatale's genesis provides a fascinating insight into French fin-de-siecle attitudes towards women."--Times Literary Supplement

"An invaluable first collection of fascinating images from the periodical press of the late nineteenth and early twentieth-century."--H-France Review

"Menon's study is aptly served by striking representations by some of the most influential illustrators of the period. . . . Well researched and strongly focussed, Menon's work positions itself authoritatively against the backdrop of fin-de-siécle history of art and feminism."--Art History

"Fills an important gap in feminist history of art."--Association of Art Historians
"Evil by Design goes where few books have gone before: into the archives that house images of evil women in dozens of popular illustrated journals of the late nineteenth century in France. . . . The 'designs' of these women, fabricated by men, include an urge to turn men into miniature and terribly inadequate mannequins, to suffocate them with living boas, and to poison them with the ever-handy flowers of evil available in the hothouses of the belle epoque."--Marie Lathers, Treuhaft Professor of Humanities and French, Case Western Reserve University

"Probing, witty, and scholarly analysis makes the arguments in Evil by Design both valid and persuasive. menon explores the psychology behind the production of 'femme fatale' images while also illustrating how men ignored the feared real women. Not only is this book stimulating and enjoyable, I know of no other book that so calm and conclusively builds its case."--Linda Gertner Zatlin, professor of English, Morehouse College.
Publication supported by a grant from Purdue University
---
To order online:
//www.press.uillinois.edu/books/catalog/45zsd9td9780252030833.html
To order by phone:
(800) 621-2736 (USA/Canada)
(773) 702-7000 (International)
Related Titles