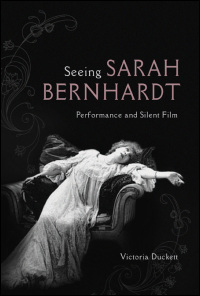 Seeing Sarah Bernhardt
Performance and Silent Film
Awards and Recognition:
• A Choice Outstanding Academic Title, 2016
How an icon of the stage leapt to the early silver screen
The most famous stage actress of the nineteenth century, Sarah Bernhardt enjoyed a surprising renaissance when the 1912 multi-reel film Queen Elizabeth brought her international acclaim. The triumph capped her already lengthy involvement with cinema while enabling the indefatigable actress to reinvent herself in an era of technological and generational change.
Placing Bernhardt at the center of the industry's first two decades, Victoria Duckett challenges the perception of her as an anachronism unable to appreciate film's qualities. Instead, cinema's substitution of translated title cards for her melodic French deciphered Bernhardt for Anglo-American audiences. It also allowed the aging actress to appear in the kinds of longer dramas she could no longer physically sustain onstage. As Duckett shows, Bernhardt contributed far more than star quality. Her theatrical practice on film influenced how the young medium changed the visual and performing arts. Her promoting of experimentation, meanwhile, shaped the ways audiences looked at and understood early cinema.
A leading-edge reappraisal of a watershed era, Seeing Sarah Bernhardt tells the story of an icon who bridged two centuries--and changed the very act of watching film.
---
"Duckett's excellent skills as a researcher and a writer shine through. . . . Seeing Sarah Bernhardt therefore not only adds much needed context and analysis to the performances of the legendary Bernhardt, but it also shows the promise of intermedial research."--Theatre Journal

"Addresses the chasm in criticism between a lionizing of Sarah Bernhardt's stage work on one hand, and the dismissal of her filmed performances on the other."--French Studies

"Conceptually ambitious and highly stimulating."--Nineteenth Century Theatre and Film

"Well written and insightful, this is required reading for those interested in theater, film, or women's studies. . . . Essential."--Choice
"Radically revises our understanding of why Sarah Bernhardt chose to engage in the new medium of motion pictures and why her 1910s films were received (and are still readable) as both artistic and popular works far beyond France."--Richard Abel, author of Americanizing the Movies and "Movie-Mad" Audiences, 1910–1914

"Sarah Bernhardt was one of the first well-known actresses to turn to moving pictures, proving that the movies could be taken seriously by major artists and attracting an audience cinema had not had before. Film historians have dismissed these films as 'filmed theater,' but Victoria Duckett demands we take a closer look. In our era of hybrid media, we can rediscover Bernhardt's use of gesture and movement as linking cinema to Art Nouveau while forging a link between theater and film. Duckett's careful research reveals the impact a woman had in establishing cinema as an art that drew on--rather than ignored--theater. Bernhardt not only became the first international movie star--she pioneered the role women might have in this new medium."--Tom Gunning, author of The Films of Fritz Lang: Allegories of Vision and Modernity
---
To order online:
//www.press.uillinois.edu/books/catalog/46rck5nx9780252039669.html
To order by phone:
(800) 621-2736 (USA/Canada)
(773) 702-7000 (International)
Related Titles