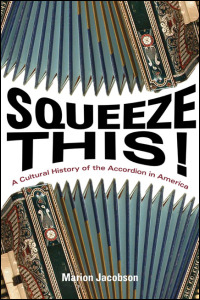 Squeeze This!
A Cultural History of the Accordion in America
Awards and Recognition:
• Klaus Wachsmann Prize for Advanced and Critical Essays in Organology, Society for Ethnomusicology, 2014
Everything you wanted to know about piano accordions in America--but were afraid to ask
No other instrument has witnessed such a dramatic rise to popularity--and precipitous decline--as the accordion. Squeeze This! is the first history of the piano accordion and the first book-length study of the accordion as a uniquely American musical and cultural phenomenon.
Ethnomusicologist and accordion enthusiast Marion Jacobson traces the changing idea of the accordion in the United States and its cultural significance over the course of the twentieth century. From the introduction of elaborately decorated European models imported onto the American vaudeville stage and the instrument's celebration by ethnic musical communities and mainstream audiences alike, to the accordion-infused pop parodies by "Weird Al" Yankovic, Jacobson considers the accordion's contradictory status as both an "outsider" instrument and as a major force in popular music in the twentieth century.
Listen to an interview with Marion Jacobson on WNYC:
Drawing on interviews and archival investigations with instrument builders and retailers, artists and audiences, professionals and amateurs, Squeeze This! explores the piano accordion's role as an instrument of community identity and its varied musical and cultural environments. Jacobson concentrates on six key moments of transition: the Americanization of the piano accordion, originally produced and marketed by sales-savvy Italian immigrants; the transformation of the accordion in the 1920s from an exotic, expensive vaudeville instrument to a mass-marketable product; the emergence of the accordion craze in the 1930s and 1940s, when a highly organized "accordion industrial complex" cultivated a white, middle-class market; the peak of its popularity in the 1950s, exemplified by Lawrence Welk and Dick Contino; the instrument's marginalization in the 1960s and a brief, ill-fated effort to promote the accordion to teen rock 'n' roll musicians; and the revival beginning in the 1980s of the accordion as a "world music instrument" and a key component of cabaret and burlesque revivals and pop groups such as alternative experimenters They Might Be Giants and polka rockers Brave Combo.
Loaded with dozens of images of gorgeous instruments and enthusiastic performers and fans, Squeeze This! A Cultural History of the Accordion in America represents the accordion in a wide range of popular and traditional musical styles, revealing the richness and diversity of accordion culture in America.
---
"Wunnerful, wunnerful. . . . A delightful and illuminating surprise."--The Wall Street Journal

"Using meticulous research, Jacobson not only touches on how topics as diverse as immigration, movies, war, and feminism have influenced the accordion's popularity, but she also finds time to drop in countless little known pop culture nuggets about great accordionists."--Publishers Weekly

"A fascinating cultural history of the most underestimated of instruments."--Booklist

"An illuminating and occasionally whimsical account, in keeping with the instrument itself."--Library Journal

"Solid. . . . This book holds plenty of interest for those who love accordion music."--Kirkus Reviews

"A serious work of musical and cultural history."--Shelf Awareness

"An academic resource, a detailed history, and a quirky travelogue. . . . [Time] to roll out the barrel and uncork the champagne: with this book, the lowly squeezebox has begun to get its cultural due."--Maclean's

"Marion Jacobson prefaces her delightful book with a quote from the Minneapolis Journal of December 16, 1912: 'A fearful instrument that looks like a cash register, and sounds worse, produces gasps of pleasure at the Orpheum this week. It is called the piano accordion and its behaviour is shameless.' . . . This often-maligned instrument has found a worthy champion in Jacobson. Her likeable, informative and readable book, illustrated with superb colour plates of classic instruments and performers, looks set to remain the definitive work on the subject." —Lou Glandfield, The Times Literary Supplement

"An excellent, readable book, filled with all the names one needs to know. Highly recommended."--Choice

"Jacobson is at her best when she is chronicling the history of the instrument that she loves and the social scenes of which it is a part. A fun read for accordion enthusiasts"--Ethnomusicology

"Ethnographically rich, compellingly written, and resting on a solid theoretical and methodological foundation, Marion Jacobson's cultural history of the accordion is a welcome addition to the extant literature on popular music, free-reed instruments, and cultural and diaspora studies."--Italian American Review

"Jacobson shows the complexity and vitality of the accordion culture in America. Squeeze This! is a groundbreaking work."--Journal of American Folklore

"Squeeze This! presents sound ethnomusicological scholarship based on first hand musical knowledge and performance experience as well as field and scholarly research. Jacobson's contribution to the ethnography of musical instruments in general and of the piano accordion in particular is her portrayal of the processes by which an instrument enters and is assimilated into a culture."--Western Folklore

"An enthralling monograph that explores the history, diverse cultural meanings, and multifaceted musical and social roles of the piano accordion in the United States.--Journal of the Society for American Music
"An excellent book about the piano accordion's evolution, a number of major accordionists, and the many musical genres where it has been used, from polka and zydeco to rock 'n' roll and classical music. Fascinating reading not only for accordionists, ethnomusicologists, and folklorists, but especially also general readers interested in ethnic music and cultural history."--Deborah Anders Silverman, author of Polish-American Folklore
Publication of this book is supported by a grant from the Andrew W. Mellon Foundation
---
To order online:
//www.press.uillinois.edu/books/catalog/47bqd8bm9780252036750.html
To order by phone:
(800) 621-2736 (USA/Canada)
(773) 702-7000 (International)
Related Titles