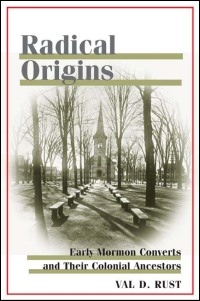 Radical Origins
Early Mormon Converts and Their Colonial Ancestors
Awards and Recognition:
Smith-Petit Best First Book Award from the Mormon History Association, 2005.
The genological beginings of the Mormon religion from the radical Protestant Reformation movement in New England
Val D. Rust's Radical Origins investigates whether the unconventional religious beliefs of their colonial ancestors predisposed early Mormon converts to embrace the (radical( message of Joseph Smith Jr. and his new church.
Utilizing a unique set of meticulously compiled genealogical data, Rust uncovers the ancestors of early church members throughout what we understand as the radical segment of the Protestant Reformation. Coming from backgrounds in the Antinomians, Seekers, Anabaptists, Quakers, and the Family of Love, many colonial ancestors of the church(s early members had been ostracized from their communities. Expelled from the Massachusetts Bay Colony, some were whipped, mutilated, or even hanged for their beliefs.
Rust shows how family traditions can be passed down through the generations, and can ultimately shape the outlook of future generations. This, he argues, extends the historical role of Mormons by giving their early story significant implications for understanding the larger context of American colonial history. Featuring a provocative thesis and stunning original research, Radical Origins is a remarkable contribution to our understanding of religion in the development of American culture and the field of Mormon history.
"Rust has succeeded in raising some very interesting questions that deserve our attention and provide the basis for what is likely to be a long, interesting, and productive discussion."--Jenny Hale Pulsipher, BYU Studies
---
To order online:
//www.press.uillinois.edu/books/catalog/47cwn5ge9780252029103.html
To order by phone:
(800) 621-2736 (USA/Canada)
(773) 702-7000 (International)
Related Titles