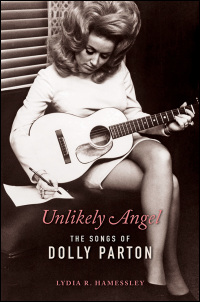 Unlikely Angel
The Songs of Dolly Parton
The creative process of a great American songwriter
Dolly Parton's success as a performer and pop culture phenomenon has overshadowed her achievements as a songwriter. But she sees herself as a songwriter first, and with good reason. Parton's compositions like "I Will Always Love You" and "Jolene" have become American standards with an impact far beyond country music.
Lydia R. Hamessley's expert analysis and Parton's characteristically straightforward input inform this comprehensive look at the process, influences, and themes that have shaped the superstar's songwriting artistry. Hamessley reveals how Parton's loving, hardscrabble childhood in the Smoky Mountains provided the musical language, rhythms, and memories of old-time music that resonate in so many of her songs. Hamessley further provides an understanding of how Parton combines her cultural and musical heritage with an artisan's sense of craft and design to compose eloquent, painfully honest, and gripping songs about women's lives, poverty, heartbreak, inspiration, and love.
Filled with insights on hit songs and less familiar gems, Unlikely Angel covers the full arc of Dolly Parton's career and offers an unprecedented look at the creative force behind the image.
---
"A persuasive argument for taking Dolly Parton seriously as an artist. For folk and country music scholars, musicians, and fans." --Library Journal
"I'm so excited about the book Unlikely Angel: The Songs of Dolly Parton spotlighting Dolly's unmatched gift as a songwriter. Always honoring and forgiving, Dolly shines only the best light on circumstances that would've taken the rest of us out. She's the hero who continues to encourage those who wanted change or wished to go back, bringing to life a part of the country and an existence most of us didn't know or understand, all while making hard living seem like heaven on earth. Her magical combination of heart and genius is a most awe inspiring thing to witness, having a beauty and delivery like no other. Dolly's tales of family, faith, and romance have created an American treasure who has continued to enrapture the world for decades. What a gift for us to see life through hers." --Alison Krauss

"Lydia Hamessley invites us on a deep dive into the world of Dolly Parton as songwriter.  The book weaves together insightful analyses of the musical forms, cultural roots, and meanings found in Parton's vast catalog, with Parton's own accounts of her music.  Hamessley unveils these songs as the heart and substance of Parton's contributions to popular culture, and will inspire every reader to take yet another listen."--Jocelyn R. Neal, author of Country Music: A Cultural and Stylistic History
Publication supported by grants from the AMS 75 PAYS Endowment of the American Musicological Society and the Judith McCulloh Endowment for American Music.
---
To order online:
//www.press.uillinois.edu/books/catalog/47erc5fp9780252043529.html
To order by phone:
(800) 621-2736 (USA/Canada)
(773) 702-7000 (International)
Related Titles