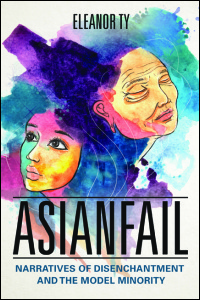 Asianfail
Narratives of Disenchantment and the Model Minority
Awards and Recognition:
2017- 2018 Asian/Pacific American Award for Literature for Adult Non-Fiction from the Asian/Pacific American Librarians Association
Struggling to turn feelings of #asianfail into #asianhappiness
Asian Americans and Asian Canadians have long borne a burden. Outsiders praised them as extraordinarily gifted and hardworking. Family and peers bought into attitudes expressed in the black-humored joke, "If at first you don't succeed, don't come back home."
Eleanor Ty's bold exploration of literature, plays, and film reveals how Asian Americans and Asian Canadians have struggled with the expectations, work ethic, and self-sacrifice preached by their parents. The new generation's narratives focus on protagonists disenchanted with their daily lives. Many are depressed. Some are haunted by childhood memories of war, trauma, and refugee camps. Rejecting an ethos obsessed with professional status and accruing money, they seek fulfillment by prioritizing relationships, personal growth, and cultural success. As Ty shows, these storytellers have done more than reject a narrowly defined road to happiness. They have rejected neoliberal capitalism itself. In so doing, they demand that the rest of us reconsider our outmoded ideas about the so-called model minority.
---
"Asianfail is an engrossing and timely contribution to the study of contemporary Asian North American culture. . . . What is most illuminating is the interdisciplinary research that Ty brings to the conversation, historically and culturally contextualizing these Asian failures as a result of racial discourses, neoliberal economic policies, globalization, and the traumas of war and dislocation." --Canadian Literature

"Asianfail is an engrossing and timely contribution to the study of contemporary Asian North American culture." --Canadian Literature

"Eleanor Ty's book Asianfail is a valuable and timely contribution to Asian American and Asian Canadian studies, providing a novel way of understanding the new generation of Asian North Americans through their narratives." --Journal of Asian American Studies
"With Asianfail, Eleanor Ty continues her important work in literary studies that invigorates ongoing debates over the meaning of Asian difference in North American culture. Her book is a welcome set of insightful essays illuminating key aspects, contexts, and stakes of contemporary Asian North American cultural politics. By focusing on failure and agency, her work here brings new and needed perspectives on such issues as trauma, depression, and aging."--Victor Bascara, UCLA

"Offers sharp and insightful close readings in contemporary film and literature. It lays out the challenges that Asian North Americans, particularly those of a younger generation, are facing and the ways that cultural producers are responding."--Christine Kim, author of The Minor Intimacies of Race: Asian Publics in North America
---
To order online:
//www.press.uillinois.edu/books/catalog/47fea8mk9780252040887.html
To order by phone:
(800) 621-2736 (USA/Canada)
(773) 702-7000 (International)
Related Titles