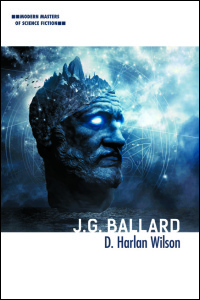 J. G. Ballard
Awards and Recognition:
• Locus Recommended Reading List, 2017
The surrealist mindscapes of the New Wave innovator
Prophetic short stories and apocalyptic novels like The Crystal World made J. G. Ballard a foundational figure in the British New Wave. Rejecting the science fiction of rockets and aliens, he explored an inner space of humanity informed by psychiatry and biology and shaped by surrealism. Later in his career, Ballard's combustible plots and violent imagery spurred controversy--even legal action--while his autobiographical 1984 war novel Empire of the Sun brought him fame.
D. Harlan Wilson offers the first career-spanning analysis of an author who helped steer SF in new, if startling, directions. Here was a writer committed to moral ambiguity, one who drowned the world and erected a London high-rise doomed to descend into savagery--and coolly picked apart the characters trapped within each story. Wilson also examines Ballard's methods, his influence on cyberpunk, and the ways his fiction operates within the sphere of our larger culture and within SF itself.
---
"Elegantly argued, intuitively organized, and sure to be relevant to Ballardian scholars. . . . A testament to Ballard's continued relevance."--Library Journal

"Scholars and fans of Ballard will find this study comprehensive and stimulating."--Publisher's Weekly

"Wilson interweaves the biographical elements with rich and insightful analysis of Ballard's oeuvre, from the novels to the short stories, plus commentary on his non-fiction work."--Amazing Stories

"J. G. Ballard is an engaging and comprehensive study that marshals a constellation of insights around a single, robust argument. No scholar writing on Ballard in future will want to be without it. The book would also serve as an ideal introduction to Ballard for undergraduates or others coming to his work for the first time."--The British Society for Literature and Science

"A comprehensive and intelligent overview of the author's work, it is critically engaged, well-informed in terms of existing scholarship, and written in a lively and accessible style. This is an excellent introduction to Ballard's work for scholars new to the author, as well as for fans and general readers." --Science Fiction Studies

"Energetically written and deeply informed, Wilson's study is a highly recommended resource for readers needing either a convenient refresher of Ballard's entire oeuvre or a singular entry point into Ballard's fascinating life work." --SFRA Review

"Wilson has put together an impressive book. There is something intuitive and effortless in his assessment of Ballard's work, and around every corner are oh-my-goodness-how-could-anyone-have-possibly-missed-that moments of discovery. For fans and critics alike, this is a must-read." --American Book Review
"A new comprehensive standard. Wilson's insights reach to the furthest ends of J. G. Ballard's bookshelf, complicate easy assumptions about the location of the 'autobiographical' in his novels, and, best of all, assert that if there is a science fiction worth advancing into the twenty-first century, Ballard is at the center, not the periphery, of that project."--Jonathan Lethem

"In this wide-ranging and accessible work, D. Harlan Wilson argues that J. G. Ballard is a writer who remained true to science fiction even as he claimed to abandon the genre. With clear-eyed intelligence and a deep understanding of his subject, Wilson builds a compelling case for Ballard as perhaps SF's most radical innovator."--Simon Sellars, coeditor of Extreme Metaphors: Interviews with J. G. Ballard, 1967–2008

"Did J. G. Ballard protest too much? In this engaging work, Wilson makes a compelling case that, though Ballard often distanced himself from science fiction, his entire oeuvre belongs to the genre, even if Ballard fundamentally changed the genre along the way to include the terrain of inner space and the science-fictionalization of everyday life. A wonderful reading of one of late modernity's greatest imaginative writers."--David Ian Paddy, author of The Empires of J. G. Ballard: An Imagined Geography

"Both interested and academic readers will appreciate the delicate balance Wilson achieves between the breadth of his palate and the depth of each shade, all the while amused by Wilson's snappy prose and ever-unfolding insights that reveal with appeal in this unique and compelling study of the Seer of Shepperton. What comes after highly recommended?"--Rick McGrath, editor of Deep Ends: The J. G. Ballard Anthology
---
To order online:
//www.press.uillinois.edu/books/catalog/47gdg5ke9780252041433.html
To order by phone:
(800) 621-2736 (USA/Canada)
(773) 702-7000 (International)
Related Titles