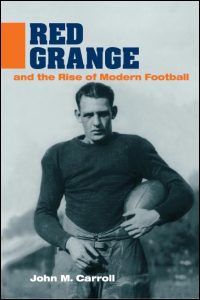 Red Grange and the Rise of Modern Football
Awards and Recognition:
Winner of the North American Society for Sport History Book Award, 1999.
The Galloping Ghost and the creation of the modern superstar athlete
Before the Super Bowl, even before the NFL, there was Red Grange. Catapulted into the public eye in 1924 by scoring four touchdowns in twelve minutes for the University of Illinois, the "Galloping Ghost" went on to a trailblazing career as a professional player, Hollywood idol, and broadcaster. He ranked with Babe Ruth and Jack Dempsey in the 1920s as one of the heralded figures in America's "golden age of sport."
Grange's spectacular performance as a college player coincided with football's evolution into a rallying point of university life boosted by post-World War I money, cars, roads, stadiums, and mass media. John Carroll depicts the life and career of the soft-spoken pioneer who helped lift pro football above its reputation as "a dirty little business run by rogues and bargain-basement entrepreneurs." A reluctant folk hero, Grange stood as a symbol of older, rural American values: an unpretentious self-made individual making a mark in a society increasingly controlled by machines, vast corporations, and stifling bureaucracies. His story is an essential element in understanding how football became central in American culture.
---
"In addition to the hindsighted look into Grange's character, the book also gives us a window into the early days of professional football and lets us see how far the pro game has come in the past eighty years."--State Journal-Register

"A special appeal of Carroll's detailed biography is that it can be read on two levels: as a straightforward chronicle of Grange's exploits in sports and entertainment and as a thoughtful inquiry into the origins and meaning of a leading American sports phenomenon. . . .While clarifying the details of Grange's life and debunking some aspects of his career, Carroll still manages to retain the appealing qualities of a gifted football player whose actual exploits delighted thousands of onlookers and captured the imaginations of millions more."--Vernon L. Volpe, Journal of Illinois History
"Sport historians should find this biography a welcome addition to the body of work emerging on the careers of specific athletic figures. Carroll sets the record straight: the record, that is, until now concocted of journalists' anecdotes and Grange's typically sanitized 'as-told-to' autobiography."--Michael Oriard, author of The End of Autumn: Reflections on My Life in Football

"Carroll deals with the many myths surrounding Grange while maintaining his 'larger than life' athletic experiences. After all, Grange will probably be remembered as the most significant collegiate football player of the twentieth century."--Ronald Smith, author of Big-Time Football at Harvard, 1905
---
To order online:
//www.press.uillinois.edu/books/catalog/47gqt6wn9780252023842.html
To order by phone:
(800) 621-2736 (USA/Canada)
(773) 702-7000 (International)
Related Titles