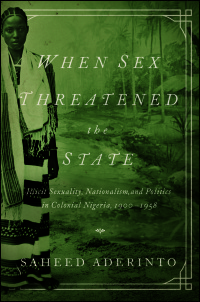 When Sex Threatened the State
Illicit Sexuality, Nationalism, and Politics in Colonial Nigeria, 1900-1958
Awards and Recognition:
• NSA Book Award, Nigerian Studies Association, 2016
Examining the intersection of sex work and the imperial project in British Nigeria
British colonizers saw prostitution as a distinctively African form of sexual primitivity and as a problem to be solved as part of the "civilizing mission" they used to morally justify imperialism. Saheed Aderinto details the Nigerian response to imported sexuality laws and the contradictory ways both British and African reformers advocated for prohibition or regulation of prostitution. Tracing the tensions within diverse groups of colonizers and the colonized to highlight their concerns, he reveals how wrangling over prostitution camouflaged the negotiating of separate issues that threatened the social, political, and sexual ideologies of Africans and Europeans alike.
The first book-length project on sexuality in early twentieth century Nigeria, When Sex Threatened the State combines the study of a colonial demimonde with an urban history of Lagos and a look at government policy to provide a cutting-edge reappraisal of the history of Nigerian public life.
---
"The first comprehensive history of sexuality of colonial Nigeria, Aderinto's book is an invaluable addition to both historiographies of colonial Africa and African sexualities."--Notches: (re)marks on the history of sexuality

"This book makes important inroads in the history of sexuality and gender, childhood, urban history, colonialism, the military, and the history of medicine in Africa and in twentieth-century world history."--American Historical Review

"This noteworthy text brings to light the intimate connection between sexual politics and nationalism in colonial Nigeria during the first half of the twentieth century. . . . A solid contribution to scholarly works on sexuality in Africa and is of interest to scholars and students in the fields of African studies, gender, and history."--Journal of West African History

"Aderinto's exploration of the special role of soldiers in the history of prostitution control in Lagos is especially fascinating and insightful."--Africa

"Saheed Aderinto has produced a very important contribution to African social history and Nigerian historiography specifically. His intellectual journey, as revealed in his introduction, is a 'must read' for graduate students for this book is the outcome of a scholar who listened closely to his sources and grappled with the complex realities they revealed. . . . Of great value to scholars interested in public health, colonial law and policy, gender studies, as well as urban history."--Canadian Journal of History

"Saheed Aderinto's fine book demonstrates how the politics, policies, and popular culture debates about sexuality both animated and crystalized many of the ambitions and struggles of colonial and nationalist projects in twentieth-century Nigeria. . . . Particularly persuasive is the author's ability to show how concerns about illicit sexuality could be simultaneously a colonial rationale for subjugating the native population and a pillar of Nigerian nationalists' demands for independence. . . . It certainly shows that concerns about illicit sexuality continue to be central to postcolonial statecraft, just as Aderinto has persuasively demonstrated for Nigeria's colonial and nationalist projects in this excellent book."--International Journal of African Historical Studies

"A fine study of that rarity in South African history: a proud tradition of educational achievement for African students that has endured for more than a century."--American Historical Review

"When Sex Threatened the State will stand the test of time, not only for the quality of Aderinto's analyses, sources, and interpretations, but also for the ways he placed sexuality at the center of core structures of everyday life in colonial Nigeria. This is a major contribution to African studies and historical scholarship on Nigeria."--Journal of Retracing Africa

"Engagingly written, perspective in its analysis, and concerned with issues of deep historical and contemporary importance, this book has much to offer those interested in not only African and sexuality studies but also urbanization and migration studies, as well as colonialism, nationalism, and race."--Journal of the History of Sexuality
"A rigorous and innovative study of illicit sexuality and attempts at regulating it in colonial Lagos. . . . Without question the most detailed and systematic examination of prostitution in west Africa. . . . This is an innovative, well-researched, and extremely valuable work of scholarship."--Steven Pierce, author of Farmers and the State in Colonial Kano: Land Tenure and the Legal Imagination

"A significant contribution to Nigerian and African historical studies as well as to the study of sex and sexuality within the British Empire."--Gloria Chuku, author of Igbo Women and Economic Transformation in Southeastern Nigeria
---
To order online:
//www.press.uillinois.edu/books/catalog/47gsh4dc9780252038884.html
To order by phone:
(800) 621-2736 (USA/Canada)
(773) 702-7000 (International)
Related Titles