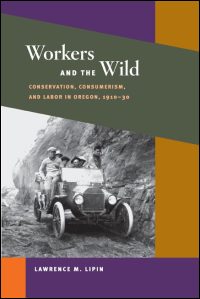 Workers and the Wild
Conservation, Consumerism, and Labor in Oregon, 1910-30
Exploring the tight ties between wilderness use and class.
In an innovative blend of environmental and labor history, Workers and the Wild examines the changing terms on which battles over the proper use of nature were fought in the early twentieth century. Focusing on Oregon in the 1910s and 1920s, Lawrence M. Lipin traces labor's shift in thinking about natural resources. They began with the "producerist" idea that resources and land, both rural and urban, should be put to productive use, and that those who do are most entitled to access to them. They later shifted to a "consumerist" view under which resources should be available for public and recreational use.
While labor was initially resistant to the elitism of protected nature preserves, working-class views changed as automobiles became more affordable and people gained increased access to national parks, forests, and beaches. They subsequently accepted the preservation of nature for recreation, and even began to pressure state agencies to provide more outdoor opportunities. While fish and game commissioners responded with ever more intensive hatcheryoperations, wildlife advocates began a push for designated "wilderness" areas. In these and other ways, the labor move-ment's shifting relationship to nature reveals the complicated development of wildlife policy and its own battles with consumerism.
---
"Though it covers ground evocative of other scholarship, Workers and the Wild approaches questions of labor, class, leisure, and nature from a compelling angle and thus brings new clarity to the complexities of working-class relationships to nature. In placing inexpensive automobiles at the center of working-class Americans' relationship with nature and labor, Lipin shows that Henry Ford has yet more to answer for."--Journal of American History

"Lawrence Lipin has written an engaging, brief account of workers' changing relationships with nature in Oregon during the early decades of the 1900s. . . . Lipin has successfully integrated the stories of working-class and environmental politics in a way that revels that neither can be fully understood without the other."--Labor History

"Lipin's study is revealing in a number of ways as he examines the evolution of labor and working class history in connection to national trends but above all in changing attitudes and relationships with the natural environment. Workers and the Wild is an innovative book that should be of interest to students of labor, environmental, and American West history."--Labor

"Workers and the Wild is a complex inquiry into a remarkable period of transition in organized labor's relationship with nature. . . . Deserves a wide reading."--Western Historical Quarterly

"[An] excellent book, imaginative. . . . Readers . . . will be richly rewarded by this stimulating work."--Oregon Historical Quarterly

"Lipin provides an invaluable foundation for discussing the troubled relationship between organized labor and the environment. . . . He contributes something of great value to our understanding of labor history, environmental history, and the history of Oregon."--Journal of Interdisciplinary History

"Lipin's book gives us a nuanced historical understanding of the cultural values and ideologies underlying social conflicts over natural resource uses in the early twentieth century. It is an exemplary synthesis of labor and environmental history - rare in current scholarship where treatments of wilderness infrequently address issues of class, and labor studies have only begun to deal with environmental problems."--Enterprise & Society

"A very fine study of conservation and labour history that provides a unique and innovative argument. Lipin's accessible writing style will appeal to both researchers and students interested in environmental and labour history."--Left History

"A provocative book, clear in argument and rich in insight."--Environmental History

"A carefully researched and innovative study that ... breaks important ground in the fields of labor and environmental history."--Labor Studies Journal
---
To order online:
//www.press.uillinois.edu/books/catalog/47kbc7ng9780252031250.html
To order by phone:
(800) 621-2736 (USA/Canada)
(773) 702-7000 (International)
Related Titles