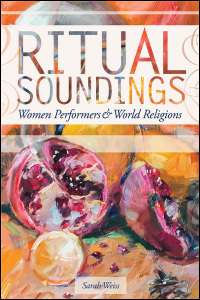 Ritual Soundings
Women Performers and World Religions
Representing women's traditions and re-envisioning comparative practices
The women of communities in Hindu India and Christian Orthodox Finland alike offer lamentations and mockery during wedding rituals. Catholic women of southern Italy perform tarantella on pilgrimages while Muslim Berger girls recite poetry at Moroccan weddings. Around the world, women actively claim agency through performance during such ritual events. These moments, though brief, allow them a rare freedom to move beyond culturally determined boundaries.
In Ritual Soundings, Sarah Weiss reads deeply into and across the ethnographic details of multiple studies while offering a robust framework for studying music and world religion. Her meta-ethnography reveals surprising patterns of similarity between unrelated cultures. Deftly blending ethnomusicology, the study of gender in religion, and sacred music studies, she invites ethnomusicologists back into comparative work, offering them encouragement to think across disciplinary boundaries. As Weiss delves into a number of less-studied rituals, she offers a forceful narrative of how women assert agency within institutional religious structures while remaining faithful to the local cultural practices the rituals represent.
---
"This study is a treasure trove of marriage-rituals that women perform within the context of the world religion they are affiliated to. It is a pleasure to savour the presentation of their variety." --Religion and Gender
"As I read along, I found myself smiling and nodding at the text's cleverness and its validating evidence for women's agency in the performance of scandalous 'soundings' of protest and dissent. This is a fascinating, well-written, and extraordinarily well-researched book."--Ellen Koskoff, author of A Feminist Ethnomusicology: Writings on Music and Gender

"A fine book that synthesizes and analyzes a fascinating variety of case studies. She argues that comparative studies are ethically important because they enable us to see connections--how people in different contexts respond to situations in some interestingly similar ways--rather than focus on what divides us."--Lisa I. Knight, author of Contradictory Lives: Baul Women in India and Bangladesh
Publication of this book is supported by the Lloyd Hibberd Endowment of the American Musicological Society, funded in part by the National Endowment for the Humanities and the Andrew W. Mellon Foundation.
---
To order online:
//www.press.uillinois.edu/books/catalog/47mrr4qk9780252042294.html
To order by phone:
(800) 621-2736 (USA/Canada)
(773) 702-7000 (International)
Related Titles