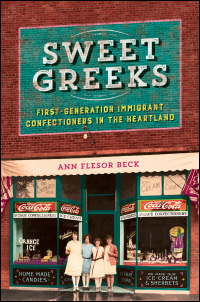 Sweet Greeks
First-Generation Immigrant Confectioners in the Heartland
Making candy--and a new life--in the Midwest
Gus Flesor came to the United States from Greece in 1901. His journey led him to Tuscola, Illinois, where he learned the confectioner's trade and opened a business that still stands on Main Street. Sweet Greeks sets the story of Gus Flesor's life as an immigrant in a small town within the larger history of Greek migration to the Midwest.
Ann Flesor Beck's charming personal account re-creates the atmosphere of her grandfather's candy kitchen with its odors of chocolate and popcorn and the comings-and-goings of family members. "The Store" represented success while anchoring the business district of Gus's chosen home. It also embodied the Midwest émigré experience of chain migration, immigrant networking, resistance and outright threats by local townspeople, food-related entrepreneurship, and tensions over whether later generations would take over the business.
An engaging blend of family memoir and Midwest history, Sweet Greeks tells how Greeks became candy makers to the nation, one shop at a time.
---
"The stories in the book are still relevant today, and the midwestern history is easy to devour because the places are familiar. . . . This book paired with some sweets from Flesor's Candy Kitchen would be perfect for anyone in central Illinois with a sweet tooth." --Smile Politely
"This remarkable story is both unique and universal. It is the story of tenacious immigrant entrepreneurs overcoming enormous odds to find that sweet spot, making candy that would become a permanent feature of American daily life."--Ken Albala, author of Noodle Soup: Recipes, Techniques, Obsession

"The value of Sweet Greeks rests in its recovery of the names and personal stories of immigrant confectioners operating candy stores in small, Midwestern towns. Once an important niche for Greek entrepreneurs, candy stores also provided community spaces. Then they disappeared. Could their revival breathe life into rural communities?"--Donna Gabaccia, coauthor of Gender and Migration: From the Slavery Era to the Global Age

"Ann Flesor Beck brings to life the workings of chain migration and networking with vivid stories of the newcomers who worked strategically to found the once-ubiquitous soda fountains of the small-town midwest. Embedded in the history of southeastern European immigration, nativist American prejudice, and immigrant persistence, she offers a revelatory view of immigrant generations that serves us well today." --Leslie Page Moch, author of Broad Is My Native Land: Repertoires and Regimes of Migration in Russia's Twentieth Century
Publication of this book was supported in by the Friends of the University of Illinois Press.
---
To order online:
//www.press.uillinois.edu/books/catalog/47pfz8cn9780252043406.html
To order by phone:
(800) 621-2736 (USA/Canada)
(773) 702-7000 (International)
Related Titles