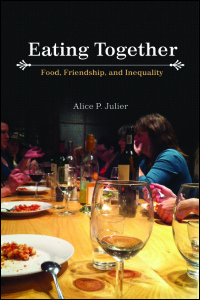 Eating Together
Food, Friendship, and Inequality
Awards and Recognition:
• A Choice Outstanding Academic Title, 2014
The social dynamics of shared meals
Sharing and enjoying food together is a basic human expression of friendship, pleasure, and community, and in Eating Together: Food, Friendship, and Inequality, sociologist Alice P. Julier argues that the ways in which Americans eat together play a central role in social life in the United States. Focusing on the experiences of African American and non-ethnic white hosts and guests, she explores the concrete pleasures of cooking as well as the discourses of food and sociability that shape the experience of shared meals.
Delving into a wide range of research, Julier analyzes etiquette and entertaining books from the past century and conducts interviews and observations of dozens of dinner parties, potlucks, and buffets. She finds that when people invite friends, neighbors, or family members to share meals within their households, social inequalities involving race, economics, and gender reveal themselves in interesting ways: relationships are defined, boundaries of intimacy or distance are set, and people find themselves either excluded or included. An insightful map of the landscape of social meals, Eating Together shows how and why people will go to considerable effort, even when resources are limited, to ensure that they continue to eat together with friends throughout their lifetimes.
---
"The author crafts a textured portrait of the meals and manners of middle-class dinner parties and potluck suppers, primary events in American social life. Reveals both how notions of hospitality have changed, and the degree to which women are still charged with much of the labor of caring and sharing. Highly recommended."--Choice

"Cosmopolitan dining habits have become a form of social capital, as Alice P. Julier argues in Eating Together: Food, Friendship, and Inequality, a study of social eating at home in America that explores the use of food to create both ties and boundaries. Julier's book contributes to the small field of sociology on friendship, often considered the least hierarchical of relationships. Yet, as Eating Together illustrates, these supposedly democratic bonds are influenced by structural inequalities in class, race and gender."--Times Literary Supplement

"Among countless accurate observations, Alice Julier explains that food can take several circuits or networks, depending on your budget and where you live; matters of food distribution can have many direct impacts on what is being actually offered to the consumer, depending whether buyers go to standardized supermarkets or to the small, exotic and specialized outlets which rely on alternative chains. . . . This is the type of lively book that can make laypeople understand what sociology is all about."--Electronic Green Journal

"It is well worth following Alice Julier on this journey and exploration of eating together through forms, ethos and places."--Review of Agriculture, Food, and Environmental Studies
"I eagerly read Eating Together: Food, Friendship, and Inequality, engulfing new insights offered in her cultural and sociological analysis of the significance of domestic hospitality in people's lives. An excellent, much needed contribution to food studies as well as sociology and gender studies."--Psyche A. Williams-Forson, author of Building Houses out of Chicken Legs: Black Women, Food, and Power
---
To order online:
//www.press.uillinois.edu/books/catalog/47tnp8rd9780252037634.html
To order by phone:
(800) 621-2736 (USA/Canada)
(773) 702-7000 (International)
Related Titles