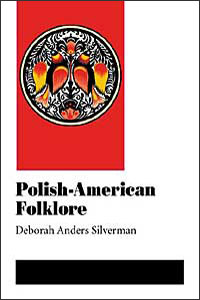 Polish-American Folklore
Awards and Recognition:
• Oskar Halecki Award, Polish American Historical Association, 2001
• A CHOICE Outstanding Academic Title, 2001
A rich and thorough investigation of the life and ways of American descendents of Polish immigrants--with photographs, firsthand observations, and interviews
Integrating vivid photographs, firsthand observations, and interviews against a rich backdrop of ethnic practices and traditions, Deborah Anders Silverman explores how Polish Americans are creatively adapting the rural peasant folklore of the old country to life in multicultural, urban America. Silverman surveys rituals of courtship, marriage, coming of age, and funerals, also noting those customs that have been rediscovered after falling into disuse. She follows the trail of folk stories and delves into folk music and dance, particularly the polka, providing a detailed discussion of texts, contexts, and performance practices. She also describes birthing practices, home remedies, superstitions, folk blessings, and miracle cures. In addition, she offers a wealth of information on foodways and on the origins and celebration of holy days, from Christmas Eve vigils to the Dyngus Day festivals of the Easter season.
Polish-American Folklore reveals a community that preserves distinctive traditions even though geographically dispersed in a new homeland. Polish Americans retain ties to their ethnicity though ethnic media, social clubs, churches, group events, and the Internet. This "Polonia without walls" is united by a resilient, dynamic, family-oriented culture that attracts not only Polish immigrants and their descendants but also newcomers from other ethnic and racial groups. By including first-person commentary from a wide range of Polish American individuals and families, from first-generation immigrants to non-Polish in-laws who embrace Polish foods, music, and traditions, Silverman brings to life a thriving ethnic subculture that values equally its Polish roots and its American harvest.
---
"No other book has documented Polish American folklore as thoroughly as this does. Silverman provides excellent historical, social, and cultural contexts in her presentation of many expressions of Polish American culture, such as Easter and Christmas celebrations, rites of passage, religious traditions, folk medicine, folk song, folk dance (with a special chapter devoted to the polka), folk games, folk arts and crafts, and foodways. . . . She does a superb job of incorporating parallel examples from relevant studies of other ethnic groups."--Choice
"In a work impeccably researched and alive with the cultural experiences of individuals, Deborah Anders Silverman illuminates the folklore of Polish Americans, from polkas to pierogi, from wigilia to weddings. A must for every Polish American and for anyone else curious about the human dimensions of ethnicity in a pluralistic society."--James P. Leary, director of the folklore program, University of Wisconsin
Publication of this book was supported by a grant from Professor William R. Greiner, William R. Parks, Arthur S. Parks, Mrs. Jenny Pokrzywka, James T. Strychalski, the Kosciuszko Polish Home Association, Inc., and Dr. Walter M. Drzewieniecki
To order online:
//www.press.uillinois.edu/books/catalog/47ycm4st9780252025693.html
To order by phone:
(800) 621-2736 (USA/Canada)
(773) 702-7000 (International)
Related Titles