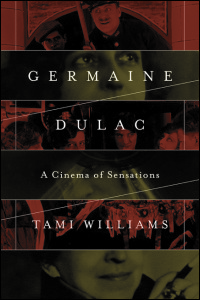 Germaine Dulac
A Cinema of Sensations
Awards and Recognition:
Research in the Humanities Award, University of Wisconsin-Milwaukee, 2015
The first in-depth historical study of the trailblazing filmmaker and feminist and her work
Best known for directing the Impressionist classic The Smiling Madame Beudet and the first Surrealist film The Seashell and the Clergyman, Germaine Dulac, feminist and pioneer of 1920s French avant-garde cinema, made close to thirty fiction films as well as numerous documentaries and newsreels. Through her filmmaking, writing, and cine-club activism, Dulac's passionate defense of the cinema as a lyrical art and social practice had a major influence on twentieth century film history and theory.  
In Germaine Dulac: A Cinema of Sensations, Tami Williams makes unprecedented use of the filmmaker's personal papers, production files, and archival film prints to produce the first full-length historical study and critical biography of Dulac. Williams's analysis explores the artistic and sociopolitical currents that shaped Dulac's approach to cinema while interrogating the ground breaking techniques and strategies she used to critique conservative notions of gender and sexuality. Moving beyond the director's work of the 1920s, Williams examines Dulac's largely ignored 1930s documentaries and newsreels establishing clear links with the more experimental impressionist and abstract works of her early period.
---
"With its deft combination of biography, history, and criticism, Williams's book is now, and will likely remain for some time the resource on Dulac's life and work. Highly recommended."--Choice

"An authoritative, scholarly survey of one of France's pioneer female filmmakers. Germaine Dulac: A Cinema of Sensations is a fascinating text for cinephiles and Francophiles alike. It may render any subsequent biographical attempts at Dulac as redundant when compared to such a comprehensive study."--Shepherd Express

"Williams's book is exemplary in tying together the multiple personal, political, social, and artistic strains running through Dulac's oeuvre. Although it may be surprising that we are only now getting the first book-length consideration of Dulac's career, it was well worth the wait."--Afterimage

"Within the burgeoning realm of archivally-based feminist film historiography, especially around early cinema, it is the singular achievement of Tami Williams's study of the career of Germaine Dulac that it manifests similar lessons about biography and offers us a thick rendition of a life that was so consequential in so many domains yet little known in its extension to most researchers. . . . The importance of Williams's book lies in the ways it goes beyond Dulac's life and career per se to offer a veritable picture of independent French cinema between the wars and especially to use the one life as a lesson about the possible place of women within that broader picture."--Film Quarterly

"Williams delivers primary scholarship of the highest order. Her jargon-free prose blends biographical narrative, institutional histories of Belle Epoque feminism and syndicalism, economic and industrial considerations, as well as close analyses of films that survived and reconstructions of those that did not."--French Review

"Williams's study is a pleasure to read, a model of feminist film history, and an achievement that suggests many avenues for future research."--French Studies
"Tami Williams has produced a monumental, extraordinarily well-researched, highly readable portrait of one of the most significant figures in the history of cinema.... There is, quite literally, no other book like it anywhere, in any language. It is the first book of its kind and will always be the best."--Sandy Flitterman-Lewis, author of To Desire Differently: Feminism and the French Cinema

"[M]akes a significant contribution to the field of film study, offering the most thorough account yet of this important artist's life and work.... The research behind this manuscript is astounding . . . drawing upon a massive amount of primary source material few scholars have taken the trouble to examine."--Charles O'Brien, author of Cinema's Conversion to Sound: Technology and Film Style in France and the U.S.
---
To order online:
//www.press.uillinois.edu/books/catalog/47yxb8mr9780252038471.html
To order by phone:
(800) 621-2736 (USA/Canada)
(773) 702-7000 (International)
Related Titles